"Long Cords" and "A Reminder"
Long Cords
Like long fiber cords, history's 
threads move through time and  
space as if hooked to arrows 
shot at unseen targets, some dropping short,  
others stretching, lengthening,  
a few striking dead center on  
some unsuspecting bullseye.  
Ancient, even from beginning, 
not understood, patterns complex  
beyond our ken, working through millennia,  
seeking resolution or karmic justice,  
purpose or plan not openly exposed  
yet there to see for the seeker of  
individual strands, the fully woven 
rope itself unseen by  
mystic, soothsayer, 
or prophet.
---
A Reminder
of rice paddies lost – places  
we've been and why wars are fought 
for something lost in the predawn gray 
something I'm still trying to remember, 
something about occidental plows maybe, or 
an empire reborn, or men of straw, or 
a form of ashes blown on the wind  
down corridors to arc once more 
or dissolve into nothing. 
A little history. through the years, 
in flashback accidental found, 
beyond locked turnstile and  
barbed wire, unexpected middle ground of  
last contact before cold morning and the 
fog reveal a long dark spell of nothing.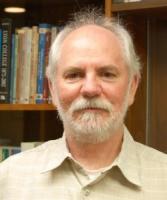 J. B. Hogan has published over 280 stories and poems and eleven books, including Bounty Riders, Bar Harbor, Time and Time Again, Mexican Skies, Tin Hollow, Living Behind Time, Losing Cotton, The Rubicon, Fallen, The Apostate, and Angels in the Ozarks (nonfiction, local professional baseball history). He lives in Fayetteville, Arkansas.