Jack Daniels's Failed Intervention
Sam Adams
Was drinking alone
In the infamous Cosmos Bar,
In Bangkok,
The city of lost angels.
 
Twenty drinks too sober
He barely noticed
The naked ladies
Dancing on the stage.
 
On his table
He had a bottle of Jack Daniels
Along with a bottle of Johnny Walker
And five bottles of Singh beer.
 
Drinking his way to hell
Following the advice
Of the old song
 
"One bourbon, one scotch
And one beer."
 
That played on
In his lonely head.
 
This was his usual Friday night
Routine
Just another pathetic loser
Drinking in the Cosmos bar.
 
The barmaids
Left him alone
He never paid them
Any attention anymore...
 
He was there
To make love
To his booze bottles,
The booze bottles
were his only friend.
 
That night,
About 0 dark hundred
He looked up.
 
Saw the bottle of Jack Daniels
Had somehow transformed
Into that of a younger version
Of Sam Adams.
 
The figure announced
That he was the spirit
Of Jack Daniels
And had a message
For Sam Adams.
 
"Master,
It is not my place
To complain
But you really are
Drinking a bit too much.
 
Twenty drinks a night
For the last few weeks,
Don't you think?
 
You are so far gone
You don't even notice
The naked ladies
Anymore.
 
They and I all want you
To quit
This one-way ride
Down the hell hole.
 
Put down the bottle
Go home with Khun Lek
Who will help you forget
What you need to forget.
 
If you continue drinking tonight,
The only destination is death
My friend the Grim Reaper
Has your ticket
Ready for redemption.
So, stop drinking."
 
Soon the other bottles
In front of him
Started talking to him
Pleading with him
To just stop drinking.
 
He stared out
Convinced he was going mad
The barmaids stared
At the unholy sight,
 
As the bottles in the room
All came alive,
And began chasing Sam
 
Out into the busy street
Where a bus ran him over,
Died on the spot.
 
Thus ended Sam Adams's
Last binge
In the city of lost angels.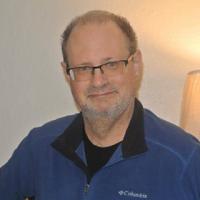 John (Jake) Cosmos Aller is a retired U.S. Foreign Service Officer (diplomat) who is living in South Korea. He served in ten countries during his 27 years of diplomatic service. He served in the Peace Corps in Korea and taught overseas before joining the State Department. He grew up in Berkeley, California but has visited all 50 states, and 50 foreign countries and territories. He holds a Masters's Degree from the University of Washington in Korean Studies and Public Administration. Over 45 literary journals have published his poetry and fiction. He blogs at https://theworldaccordingtocosmos.com. He speaks Korean, Spanish, and Thai.