"In the Sense of Remaining Grounded" and "Truth and Reconciliation"
In The Sense Of Remaining Grounded
You are not electricity snaking out in the moist direction, or a plane speeding toward flight. You are not even an insect evading a predator. Instead, you sit on the floor breathing, because really there is no choice in this life but to allow air in and out of your lungs thousands of times an hour. How are you, I foolishly asked my grandmother. Well, considering the alternatives. In an alternative life, I would be a grandmother now. In this life I am connected to her past and the little I remember of her cautionary stories some related to the needle trades, some for girls who are so easy to ruin. I told a different set of stories to my daughter though judging by her reaction, Are you nostalgic? my words were just as useless as teaching tales.
When you walk with sticks, the ground under your feet shifts and slides.
---
Truth And Reconciliation
On the fourteenth day of shadows everyone was telling a story (or listening to a story.) There was little argument as those singing of lost empires and those telling of enslavement kept strictly to different sides of the plaza.
This was on the day after the monuments had all vanished in the middle of the night. Residents in apartments adjacent to the square claimed to have heard nothing, even the one who would usually fuss on trash day about truck noise in the alley.
I was there, one of the group that couldn't stay on one side of the street or the other.
In my backpack, I had everything ready for any emergency: change of clothes, a week's work of prescriptions, an efficient first-aid kit, a bottle of water, food bars.
For a long time, nothing changed. When the sun went down everyone moved into the bars and burger places, except for the vegans who traveled with fruit and nuts.
All I wanted was something warm, tea, and a little break. Luckily, there was a seat on my bus.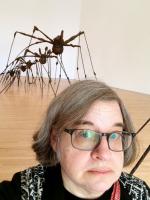 Carol Dorf is a Zoeglossia fellow. Her writing has been published in three chapbooks, and in journals that include Great Weather for Media, The Mom Egg, Aybss and Apex, About Place, Slipstream, The Journal of Humanistic Mathematics, Scientific American, and Maintenant. She is the founding poetry editor of Talking Writing, and teaches math in Berkeley, California. Carol recommends Fair Fight.