Recently in my work, I have been often writing music that is site and time specific. I feel that music's power is often greatest when it acknowledges the time and place. It is a temporal and ephemeral art, that is less like a literary or artistic work. For me, music is an action that engages and communes performer and audience.
The age of the internet has brought us more music than ever, but it is all a la carte. The world of youtube, soundcloud, spotify, bandcamp, et cetera has situated music as "art object" in most people's mind. Live music consumption is the small minority of most people's musical experiences. These observations have led me to try to create musical pieces/ products/ events that are unique and memorable. I hope to make things that are really only fully experienced if seen live. So it is with some reservation that I share two of my recent works at Unlikely Stories. I hope the accompanying images and photographs will add to the presentation.
Each evening, the Earth and Sun participate in a unique ritual. James Turrell has devoted much of his work to acknowledging and interacting with these cosmic rites. The entire body of his work explores the relationship of color, architecture, time and perception. I have worked for his Skyspace "Twilight Epiphany" for three years. This work, "In Observance of Dusk," is now the second major site‐specific work that I have designed for the space.
Daily, the skyspace exhibit features a 40-minute sequence of color to accompany the progression of the sky from twilight into dusk/night. It calls on the audience to consider the profound effect of this daily change. It is an examination of natural phenomenon and personal perception; it draws the viewer to contemplation and awe. This process is much like a piece of music. Because it is a 40-minute progression, no photograph captures the experience of the prolonged perceptual experience. Curiously enough, most viewers are determined to try and constantly photograph this beautiful experience, which often results in their missing the entire piece.
Working for this space and making of my larger works for it has changed my views on art, time, sky and site‐specific works. The idea of a work of art tied to a particular time of day—not a particular "clock time"‐‐is something that I know is important about music and its purpose. I am sure that many people can think of music that is best heard at sunrise or used for workout or for late‐night partying. In this work, I wanted to specifically create music for dusk becoming night.
I am inspired by my studies of sitar and Indian classical music. Built into the practice of raga is the particular time of day that each scale is assigned to. There are nuances to raga times that would astound many people – such as music specifically for evening rain or spring sunrises. Therefore, this work aspires to be a drama of color and tone/pitch in three acts. A continuous set of droning pitches that evolve over the course of the evening is the central "character" to this drama. It is played by one person who moves around the space as a number of musicians create music that is rich in its harmonic character driven by different mircotones and overtones related to the drone. The interaction and drama of the music that surrounds the drone player creates the narrative journey from dusk into night.
For this feature, I offer the opening two works that make up the first two‐thirds of the first act. "Anticipation: Twilight" features a solo vocalist with the electronic "droning" pitches. Her melody is a nuanced rendering of a musical mode that symbolizes the anxiety of twilight becoming night. At this point there is relaxation because the day is coming to an end, yet there are things left undone. There is hesitance about the activity of night and leaving the day's activities. Yet, this change is inevitable. The voice slowly lays out a melody exposing each note of her scale one‐by‐one, each phrase reaching higher as strength into the night gathers.
The second work, Epiphany, for violin, continues where the voice left off. The violin takes the same melodic material but begins to grapple with fixed time and pulse. The energy and inevitability of time pushes the violin to the powerful, sparkling climax at the end of this movement. It is meant as a sort of ecstatic experience after meditating on the idea of day become night.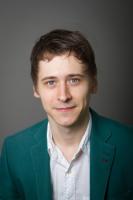 Shane Monds has composed music for traditional mediums such as choir and orchestra, film, micro‐tonal piano, art installations, Cajun fiddle, traditional Chinese instruments and much more. His music has been heard at a variety of venues ranging from St. Peter's Basilica in the Vatican to the documentary film channel to the City Hall in Nafplio, Greece.
Shane has received major commissions from the Indianapolis Symphonic Chorus, The Louisiana Sinfonietta, HGOco (Houston Grand Opera Company), and the Vechhione/Erdahl Duo whose commission was made possible by a grant from the American Composers Forum. He is currently the Robert Yekovich Teaching Fellow at Rice University where he is pursuing a doctorate in composition.