In Anticipation of Act II
She then strutted downstairs; his pulse jumping with each step towards a broken inevitability. The room was too large for its present company, Mable first walking over to a tall man with dreads. She introduced Thad as their branch leader; Kenny and Patti soon shaking Norman's hand in-between digital updates. He scanned each corner, past shelved canned goods, ham radios and splashes of artistic expression. There were picket signs, hard drives and 3D printers hooked to monitors streaming feeds of manic expressionism.
They led the high school student in circles, dropping minor operational details, before the first story hit. Several congressmen absent from major vote. Then another: President's son held hostage in Ivory Tower. Norman's stomach sank as he watched the world collapse, each of them grinning a different way. If he hadn't followed her, there'd at least be dinner on the table, not another gaggle of severed minds cheering on their ragged revolution.
When the Oval Office footage played, Mable took his hand and whispered. "Now everyone will know what they've been missing out on."
Norm could only smile back as his phone chimed over and over again. He'd finally found someone worth wasting time on.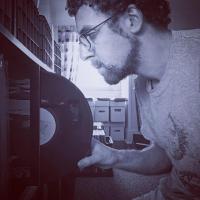 Christopher S. Bell has been writing and releasing literary and musical works through My Idea of Fun since 2008. His sound projects include Emmett and Mary, Technological Epidemic, C. Scott and the Beltones and Fine Wives. My Idea of Fun is an art and music archive focused on digital preservation with roots in Johnstown, Pennsylvania. (www.myideaoffun.org). Christopher's work has recently been published in Lakeview Journal, Noctua Review, Yellow Chair Review, Crab Fat Magazine, Pot Luck Magazine, Crack the Spine, Foliate Oak, The Gambler, Lime Hawk and Talking Book among others.  He has also contributed to Entropy and Fogged Clarity.