"Identifying Ivy" and "Bystander Effect"
Identifying Ivy
I beg you. Reconsider
preconceived notions
and identify the difference.
Three together. Mitten shaped.
Small stem on the center leaf.
Pointed tips. Shiny. White berries.
Not the same as Virginia Creeper
and its cluster of five.
Do a little research. You'll find
most are harmless. Don't despise
every green vine gracing the path
because one or two
produce a nasty itch.
---
Bystander Effect
In a safety class,
my teenager was advised
to yell "fire" if attacked,
not "help."
Wisdom presumably learned
from the stabbing death
of Kitty Genovese in 1964
and the neighbors who watched,
each waiting for the other to act.
"Fire threatens everyone,"
the teacher said, "People respond."
This may or may not explain.
Why I, as a Jew, see "fire"
in the swastika on the sidewalk, while
the other parents at my daughter's school
see "prank."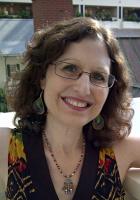 Jacqueline Jules is the author of three chapbooks, Field Trip to the Museum, (Finishing Line Press), Stronger Than Cleopatra (ELJ Publications), and Itzhak Perlman's Broken String, winner of the 2016 Helen Kay Chapbook Prize from Evening Street Press. Her work has appeared in over 100 publications including The Literary Nest, Sow's Ear Poetry Review, Glass, Beltway Poetry, Innisfree Poetry Journal, Gargoyle, and Connecticut River Review. She is also the author of forty books for young readers. Visit her online at www.jacquelinejules.com.