"So how's school going?" Brady tried to change the subject.
"Only on the morning shift," Jared answered for himself. "Listening to those teachers is as bad as being fed sermons at church."
"No room in school for a dumb shit," Stuart added.
"And I'm not a dumb shit," Jared shot back. "Besides, I'm savin' money to move out of the house, before I graduate, and for sure before you adopt me. Right now I'm delivering pizzas but wait until the band goes on tour."
"And you're gonna need more of a plan than that. Especially now that you've got a girl friend."
"Candy is not my girlfriend, she's my business partner."
 "I don't care what you call her, she sure is hanging around enough." Stuart turned his truck down a gravel lane just past a sign riddled with bullet holes that read "No hunting or shooting in the National Scenic Area". "So Junior, here you are, this is the Pit," Stuart announced. Brady was forced out of the cab as Jared bounded forward into the clearing.
"Where'd he snuff out the old guys?" Jared started poking around the shrubbery.
"Now Jay, I brought you out here for a reason, besides that kid is going to spend his life in jail. Hell, he might even get the death penalty."
"Why do they call it the death penalty? Nobody on death row ever gets the juice," Jared declared. "Triggerfinger'll be back out in a few years, like nothing happened. The time for crime is when you're young."
"Well whatever," Stuart turned to Brady. "So this all started when Jared used his fists at school. He's going to the counsellor as part of the mediation agreement. Marylou thought it would be best if we all went. Learn to listen to each other. Keep the boy out of jail."
"And why should I listen to you? What can you teach me?" Jared insisted. "You've spent years locked up in that hospital warehouse, moving boxes around. Isn't that a jail?"
"Yeah, but I'm out on parole each evening and every weekend."  Stuart turned to Brady and sighed, "You're lucky you and your old lady never had any children."
"Think so?" Brady responded. "It wasn't for not trying."
"You could still adopt," Stuart gestured toward Jared.
"The cops sure cleaned up this place, not even a cartridge" Jared returned to the truck. "Let's go." He had a few small rocks in his hand which he slipped into his pocket.
"What you got there?" Stuart asked.
"Just some souvenirs," Jared shook his head. "Should be able to sell them to friends. They're kind of red colored. I can tell 'em it's blood."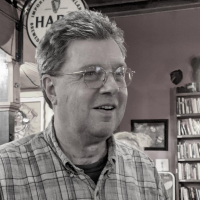 Casey Bush is a Portland poet whose eighth collection Student of Hippocampus was published in 2018 by Last Word Press (Olympia, WA).  His essay "Sisters Around the Cauldron: Mary Barnard and Her Sappho" was recently posted on the Berlin based website The Decadent Review.  Casey is the poetic voice of Notes & Motes: The Vlatkovich Trio Plus One.  He recommends Planned Parenthood and the Southern Poverty Law Center.