Stuart picked up Brady at the crack of dawn. "This is the kid," Stuart provided an introduction to a boy in the flower of adolescence. His face was a patchwork of acne, matted and greasy blue hair, t-shirt emblazoned with a vampire playing a guitar sticking out a forked snake's tongue between two fangs. In his nose Jared wore a metal ring big enough to fit a bull and had a tattoo on his neck in the shape of a knife, the point drawn across his jugular with a drop of red blood at its tip.
"So, you want to learn how to pick the golden goblet?" Brady smiled.
"No way," Jared responded. "I want to see the Pit"
"Oh, yeah, why you interested in that?"
"Not just interested in it," Stuart noted. "It's part of our therapy."
"Why you always answering for me?" Jared twisted in his seat. "Why don't you let me answer?"
"Cause I'm worried about what will come out of your mouth. So tell Brady why you're interested in the Pit."
"And besides, I'm not the only one going to the shrink," Jared spit back.
"And he's not a shrink," Stuart clarified. "He's a counsellor. We're all go to counselling. It's not just about you. Your mom and I are trying to keep our marriage together and you're an important part of it."
"And you're never gonna be my Dad."
"Your mom is the one who thought family therapy might be good for us all."
"She just thinks Dr. Redmeat is cute," Jared added.
Stuart leaned forward onto the steering wheel, looked past Jared to Brady. "He knew the boy. Went to school with the Pine Mountain thrill killer."
"I didn't know him, just sat next to him in class. Always thought Triggerfinger was a dork. But Dr. Redmeat thinks I can learn from the mistakes of others, even dorks."
"So the Pit was that place in the woods where road workers dug gravel and the deer hunters went to sight their weapons, make sure they're shooting straight" Stuart explained. "This boy from Jared's school had gone up to the mountain with an assault rifle and killed two hunters."
"Heard too much about it. Bloody mess," Brady shifted in his seat, uncomfortable rubbing shoulders with Jared. "How'd he get caught anyway?"
"Day after the murder he bragged to his classmates," Stuart answered.
"Well it wasn't me that ratted him out," Jared insisted.
"So just why are we stopping at the Pit?" Brady inquired.
"It's Dr. Redfern's idea. Part of our detoxification."
"Like that's gonna work?" Jared laughed out loud.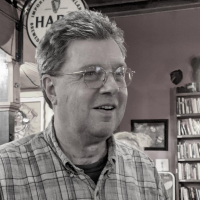 Casey Bush is a Portland poet whose eighth collection Student of Hippocampus was published in 2018 by Last Word Press (Olympia, WA).  His essay "Sisters Around the Cauldron: Mary Barnard and Her Sappho" was recently posted on the Berlin based website The Decadent Review.  Casey is the poetic voice of Notes & Motes: The Vlatkovich Trio Plus One.  He recommends Planned Parenthood and the Southern Poverty Law Center.