Preston Waldorf pulled his Ford Expedition up to the back of the Butcher Boys. "Sure was a good harvest," the owner observed. "Looks like you got the whole herd." He pushed a cart with a dozen large boxes on to the loading dock. The labels read: steak, roast, loin, ribs, summer sausage, bratwurst, jerky, sloppy joe, pepperoni, and apple cinnamon breakfast links.
"It was plentiful this year, thanks to the Lord, and of course, the Last Days Men's Club always donates some of their harvest to the Church, just another form of tithing." They loaded the boxes into the Expedition and Preston gave the butcher an envelope filled with cash. "Appreciate the discount," he nodded.
"Appreciate the work. Cash for services always keeps money away from those Internal Revenuers."
As the Expedition left the parking lot Kelly observed, "Hey Dad, home is the other way."
"Just gotta stop by Farmer Joe's for a minute. We're buying a supply of winter gourds. Gonna head up to the camp one more time to get it ready for the winter."
"But Dad, I've got a session of Warlords this afternoon."
"Some other time," Preston suggested. "Work first, and then you can play games with your friends."
"Aw Dad," Kelly moaned. "I'm a killer of Demons. It's my best game."
"Then you're just gonna have to reschedule. I need your help distributing the supplies."
At the store Preston Waldorf purchased three boxes of winter gourds; a mix of orange butternut, green acorn, blue Hokkaido pumpkins, yellow spaghetti squash and some purple eggplant.
"Really gonna eat the rainbow," the producer manager observed.
"Hell no," Preston replied. "These are just in case the End Times come before they're scheduled." He made no secret of his intention. "Or in case the November election goes bad and the race war begins. It's best to be prepared." The manager nodded in agreement.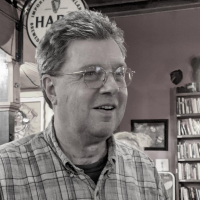 Casey Bush is a Portland poet whose eighth collection Student of Hippocampus was published in 2018 by Last Word Press (Olympia, WA).  His essay "Sisters Around the Cauldron: Mary Barnard and Her Sappho" was recently posted on the Berlin based website The Decadent Review.  Casey is the poetic voice of Notes & Motes: The Vlatkovich Trio Plus One.  He recommends Planned Parenthood and the Southern Poverty Law Center.