"Look how I can stick it," Jared pulled three knives from the wall. Each one was ten inches long, black with symmetrical blades and tapered handles. "It's all in the wrist."
"All in the wrist my eye," Candy hissed as she sat on an unmade bed next to a drum kit and a guitar propped up in front of an amplifier. Across the unfurnished room a punching bag hung from the ceiling. The room was lit by a single bulb that dangled above two lawn chairs, with a pile of empty pizza boxes scattered on the floor.
"Your daddy's gonna kill you for wrecking that wall."
"He's not my daddy and he knows better than to poke around in my stuff. Besides, it's these new knives that are killer. The Black Widow. Bought 'em on line. So much better than my switchblade. Perfectly balanced. Made to throw. Just hold one in your hands, you'll see."
"I don't wanna touch it. I don't wanna see."
"You've gotta see," Jared insisted. "You're gonna be the best part of the act."
"You're not throwing any knives at me."
"But this will drive 'em wild at Dante's. It'll be our ticket to success."
"I don't need a ticket to anywhere, besides you need to practice your guitar more before they'll let us on the stage at Dante's."
"The band's good enough to play anywhere but you don't get big gigs unless you got a gimmick. The other bands all got gimmicks, dressing up like pirates, dancing with a boa constrictor, lightin' their farts on fire. But throwing knives at a human target, especially a beautiful woman, will be the best gimmick of all."
"I'm the lead singer, not a gimmick," Candy objected. "You guys are nothin' without me."
"And we can change the band's name from Candy and Zits to Bitch and the Blades."
"No way José."
"Oh baby," Jared moaned. "We're in this business together. I know it'll work. Take a look at these drawings." Jared pulled one of the lawn chairs up to the bed and held out a pizza box with a sketch on one side. "See it's gonna be this round piece of wood, held up by a metal triangle. There'll be a harness to hold you on the disc and we can spin it around while I throw the knives. I know it'll work. It's the only reason I've stayed in school, so I can build this in shop. It'll be perfect."
"Perfect my ass," Candy threw the pizza box to the floor. "Besides, I get sick on carnival rides."
"OK, OK, how about no complete rotations, just swing like a pendulum back and forth?"
"No way with this knife thing. Besides I don't want anybody calling me the bitch."
"Or how about Beauty and the Blades? I know we can make this work."
"It's gonna stay Candy and the Zits. And that's final. Where'd you got this crazy idea?"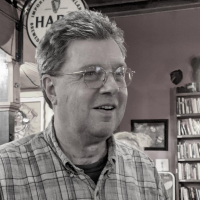 Casey Bush is a Portland poet whose eighth collection Student of Hippocampus was published in 2018 by Last Word Press (Olympia, WA).  His essay "Sisters Around the Cauldron: Mary Barnard and Her Sappho" was recently posted on the Berlin based website The Decadent Review.  Casey is the poetic voice of Notes & Motes: The Vlatkovich Trio Plus One.  He recommends Planned Parenthood and the Southern Poverty Law Center.