"Welcome to Political Science 544."
Settling in for his first class at UAlbany, Vance stared at his notebook, refusing to look at the bright modern lecture hall, the eager, book-carrying students, moving around to sit next to friends. Empty vessels, ready to believe anything. Closing his eyes, he pictured the whole class transported to the cellar of the House, where the secrets resided. Do any of you know what you're missing, he thought, knowing his fantasy was disguised grief for the House and all he'd learned that wasn't shareable. The young professor up front tried different patch cables till one of them fit the video projector and an image sprang into focus on the screen:
POS 544: AMERICAN POLITICAL DEVELOPMENT.
IN THIS COURSE YOU WILL STUDY CRITICAL EPISODES IN THE GROWTH OF OUR POLITICAL SYSTEM.
"Good morning," the professor said. "I'm Dr. Zephyr Stevenson. I just relocated to this part of New York after teaching in California. Back to my roots, you might say. In case you're wondering, 'Zephyr' is an old family name."
Zephyr. The caffeine jolt of the word brought more memories flooding back. Vance noted the Professor's alert, intelligent eyes, his dark floppy dreadlocks. The University spreadsheet-jockeys had already deemed the House unrestorable. Nothing left but to squander it, leave the roof sagging, walls stove in, library floor littered with mouse droppings. Vance watched slides flashing by: REQUIRED TEXTBOOKS; OFFICE HOURS; THERE WILL BE THREE UNANNOUNCED QUIZZES. Wanting to weep for the things about the past not quite lost but never completely understood, he merely steeled himself for what was coming. "We're very fortunate," the professor said, flashing an eager grin, "to have an advanced student with us this semester, whose wisdom can benefit us all in the weeks ahead. Mr. Vance, can you tell us what principles drove the beginnings of the American political party system?"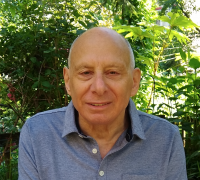 Tony Van Witsen is a seven-year resident of Michigan and has been writing fiction for approximately fifteen years, specializing in short stories.  In the summer of 2001 he enrolled in the MFA program in fiction at Vermont College and received his degree in January 2004.  His published stories and essays have appeared in a range of journals including Spellbinder, Ray's Road Review, Crosstimbers, Identity Theory and Valparaiso Fiction Review. Tony recommends Becky Tuch's Substack.