"Fuse" and "Salvation Days"
Fuse
"I tremble for my country when I reflect that God is just."
          —Thomas Jefferson
Like transients under cardboard,
like meat upon a spit,
we are spinning
in degrees of winter and fire,
fever and wound.
We have seen neighbors burn
like refuse, dry grass, unleafed books.
Mistakes are penalized
by street search, taser strike, body bag,
the vainest of Sunday prayers.
Marching for our martyrs
we have grown restive, cynical,
resistant in all matters.
We have come to register the common distress
that overrides Gospel verse, voter registration.
Treated as migratory, defective, marginal,
we are learning to burn fuses in pipes,
learning that iPhone photos and firepower
certify respect.
In the poison that is history revealed
there are two stories:
one is clean streets and service rewarded;
the other is theater, theft and dangerous language.
---
Salvation Days
In the turn from wide to narrow streets
seams in the street shudder my tires,
loosed leaves flutter through the fog.
Police on patrol secure the corner
the brass-columned church commands.
Blocked by brush-wide blurs of contrails,
the sun settles behind the storm.
There's a death in my house,
a dearth of charity,
a chastened child unwrapping his remorse.
Witnesses see a copy of Lee's Lieutenants
and nine shell casings littering the floor.
I take a bitter way through the morning news,
the rain-burst from a sudden sky.
A mourning coat drapes my shoulders.
Excused with a lie,
the revolution's flag snarls in each season,
locked to its lanyard.
Five fires blaze beneath
a summer-wide wash of heat lightning.
Rumbling through a drought, a flood
funeral caissons separate to last stations.
I stand outside a prayer circle,
trrying to recall what forgiveness verses I know.
Never equal, rooted in disregard
I spent a childhood on the charity rolls,
languish now under levies of job loss or low money.
Curbside beers, meals of tramp stew,
collapse a minister's graven idol imagery,
diminish metaphor and the morning.
Rancor falls, random as a star.
I have no sense of the way home.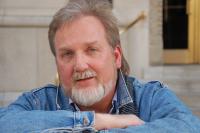 R.T. Castleberry is a widely published poet and critic. His work has appeared in Roanoke Review, Trajectory, Blue Collar Review, White Wall Review, The Alembic and Visitant. Internationally, Castleberry's work has been published in Canada, Wales, Ireland, Scotland, New Zealand and Antarctica. His work has been featured in the anthologies, Travois-An Anthology of Texas Poetry, The Weight of Addition, Anthem: A Tribute to Leonard Cohen and You Can Hear the Ocean: An Anthology of Classic and Current Poetry. His chapbook, Arriving At The Riverside, was published by Finishing Line Press in 2010. An e-book, Dialogue and Appetite, was published by Right Hand Pointing in May, 2011. He recommends the Houston Food Bank.