Artist's Statement
November 9, 2016
Day After Presidential Election
My Backyard
Leona Strassberg Steiner
Images of My Backyard were taken while walking the Industrial Canal that runs parallel to Poland Avenue near the Saint Claude Bridge, in New Orleans. It was early morning and foggy, and unusually warm. When I got to the canal, there was a cop parked there, which made the whole morning a bit more eerie...  I went up to his window and told him I was going to be shooting there. I don't know why I felt the need to do that, usually I steer clear of cops. But this morning was not like any other.
I walk in beauty everyday.
Inside is glorious,
Outside is quite dark.
Soul is mine forever.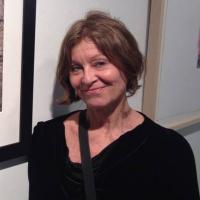 Photographer, printmaker and former dancer Leona Strassberg Steiner has lived her life half in Israel and half in the United States. Steiner has exhibited her photographs and prints extensively with solo exhibitions of her work at The Victory Hall Drawing Rooms of Jersey City and the New Jersey City University Visual Arts Gallery. She has participated in many group exhibitions in Spain, California, Illinois, New Jersey, New Orleans, and New York. Steiner was active in the art scene in Jersey City, where she was a frequent collaborator in projects such as We Are 6 at Alley Arts, her self-run studio/atelier/gallery. In 2016 she co-founded Catalyst Collective New Orleans. Leona recommends the Innocence Project - New Orleans.