"Flaming Scarves" and "This Is Not the Shallow End"
Flaming Scarves
The morality police
didn't sleep
when they killed her
in cold blood
 
I am awake late,
watching a screen in awe,
as courageous women
throw their head scarves into flames
 
I am awake late
watching courageous women with terror,
remembering the huge sacrifices levied
against the selfless front lines,
of every kind of protest against oppression,
everywhere
---
This Is Not the Shallow End
sorry/not sorry
 
    but this is not the shallow end
 
                this will not be pretty
 
                            like cracking earth and flies on eyes in Somalia are not pretty
 
 
 
this will not encourage you
 
       to have the delusion that your thoughts will create your reality
 
                  this will not be quoted on the Abraham Hicks website
 
                         because that website would lose followers, and income, if it was
 
 
 
this will not tell you that women have agency
 
       over their own bodies that they obsess on making more attractive,
 
                 but that obedient women feeling superior in their obedience
 
                            continue to prop up the men propping up crushing patriarchy
 
 
 
the crashing of giant slabs of Arctic ice
 
    will not be in the shallow end
 
          obviously, since sea levels are rising
 
                  rising desperately trying to get the full attention of humanity
 
 
 
while most of humanity loves the coziness of the shallow end
 
          with comforting notifications beeping
 
                   things cannot be that bad if kittens
 
                          on Tik-Tok make me laugh, right?
 
 
 
of course we could change our settings,
 
           or even half of us could change our settings, especially the rich,
 
                 and finally come out of the shallow end,
 
                             lest our shallowness end us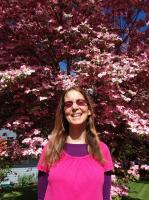 Amy Ballard Rich is a retired Montessori preschool teacher, currently living on the scenic Oregon coast. She has been published in numerous online and print publications, including everydayfeminism.com, Milvia Street Art and Literary Journal, and Penumbra Literary Journal. She has written two chapbooks and is contemplating a third. When not writing or editing, she can be found cheering on other poets, hugging trees, and trying to fight racism and bigotry.