"Favorite Love Songs of the 1970s" and "Claude Monet Weight Loss Program"
Favorite Love Songs of the 1970s
Every love is average, longs for an outside to say forever in under three minutes. In the cinemas boats capsize, buildings burn and the soft rock stylings proceed as if love were weather, its form needing no defense. The edgeless strings affirm, courteous rhythms point at an unfaced pronoun. The dead remain as some newton-john emerges to numb and console. Nearly choate, a deepy heart, unplaced chorus of alright.
---
Claude Monet Weight Loss Program
The first step toward a better you is wishing the muck from the water lilies. Those spiderlike water bugs – also gone. Pounds melt away as wrong colors rush in, but even the shadows are gold and guiltfree. The inches go to steam and breath, those yellow squiggles like icing on a supermarket cake, the cordial blues assure and assure. Again the light differs for your assent. Let the stiles follow as they might. Say it because it's not real. You are everything you want.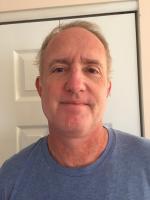 Bill Freind's book American Field Couches was published by BlazeVox in 2008, and his chapbook An Anthology was released by housepress in 2000. He's had work in the Journal of Poetics Research, Noon: A Journal of the Short Poem, Western Humanities Review, Jacket 2, and others, and he's a contributing editor at Dispatches from the Poetry Wars.