During my life I have lived in many different countries and cultures, was a foreigner, always different, sometimes displaced, not always understood but I was always privileged, and people carried me on my path with an open mind. I am lucky.
Since I discovered fabric as my medium I feel safer and finally I can touch what I am living and experiencing. It is a common base I find in it, a bridge to connect stories, memories and questions.
Through my pieces I invite you to come a step closer. You will see faces and stories printed on fabric, quilted together and hanged in spaces. Through them I am searching for a common ground to bring life back where we don't know the names.
With respect I want to show and tell the strength, and beauty of the places and its people, and allow us to share our basic instincts, and reflect on what is going on in this world.
These women are singers (Cantadoras) from Colombia's Pacific Coast. Wives, grandmothers and mothers who, with their songs, dances and smiles are facing death, disappearance and uprooting. It's their songs and voices who raise the death body into heaven, and build the memory of a whole village, a knowledge transmitted for generations.
Their oral tradition is essential for the social fabric of the community but the violent conflict along with cocaine trafficking is breaking and silencing these women, who are staying behind in the absence and loss of their sons, husbands and fathers.
This series was born out of a socio-cultural field work in Bahia Solano, to bring the women back to sing and start classes for their grandkids. Some positive experiences were made, and more and more kids are remembering and learning the traditional songs and melodies again in this remote area of Bahia Solano, Chocó , Colombia.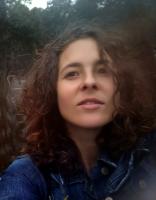 Antonia Zennaro was born in Hamburg, Germany, 1980 and grew up in Bolzano, Italy.
After living, studying and working in Paris, Barcelona, Rome and Hamburg between 1999 and 2013 she moved to Bogotá, Colombia and is now living in New Orleans.
Antonia is a member of the New Orleans Community Print Shop, where she is printing photos in big format on fabrics. Since moving to New Orleans, she has participated in Group and Solo- exhibitions, at The Front, Art-Basel Miami 2018 and Julia912.