excerpts from "Poet Resists: Alien Foreign and Domestic Policies"
i. Xmas (Almost) Came Early For Kim!
Anticipating U.S House hearings
eve of 2nd North Korean summit,
all through POTUS' Hanoi Sofitel
suite that's bugged like Moscow's
infamous "golden showers" room
all through enemy's home Donald
pulls an all-nighter not preparing to
negotiate nuclear status but rather
watching mousey Michael Cohen
sing-sing for his TV dinner as a rat.
---
ii. News Flash
AP, Hanoi, 27 February 2019 – After cursory visits to the War Museum and infamous Hanoi Hilton then dismissing aides to prepare alone for the North Korean summit, US President Donald Trump asked for and was granted political asylum by his host, North Vietnam's President Nguyễn Phú Trọng.
---
iii. Beyond Quirky
Having a written plan
in advance
to keep babies in cages
with no family
around or guards who speak
their Spanish language 
 
but with plenty of pedophiles
and an untrained staunch anti-abortionist
running this Trump Administration's
terrorizing evil effort to deter future south of the border
immigration should be called what it is
per House Judiciary Committee Chair Nadler: kidnapping.
---
iv. Mother Nature Has Zilch Golden Rules
"Pizza Hut is the only win you can count on."
--International TV ad blitz during 21-stage Tour de France through the Alps and Pyrenees
 
Darwin is the capital of Australia's Northern Territory and former frontier outpost.
After first day of school they flocked
toward what turned out to be
Starbucks which I finally figured out when a bazillion bikes, some still standing,
obstructed the sidewalk where
an old pedophile pinched
a pimply girl's ass like he was picking
apples at a bodega. But took a while before
this destination was clear to me – intermittently pumping
our Subaru's brakes trying hard not to get dinged or to hit
students in harm's risk -- and perhaps to them. We observed
these variegated kids wearing requite new cool backpacks on disparate machines in wide-ranging
states of [dis]repair, though all dutifully wore
helmets of one form or another at least cosmetically. However,
that appearance of indubitably parent-enforced safety didn't take away
from each unique manner of racing
as well as gyrating widely among parked
no less moving motor vehicles plus weaving
through pedestrians within crosswalks. Presumably a few fittest specimens shall
survive to make
it to their second day of school.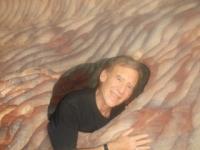 Gerard Sarnat is a retired physician who has built and staffed homeless and prison clinics. He was also a Stanford professor and healthcare CEO. As a writer, he has won First Place in Poetry in the Arts Award, the Dorfman Prize, been nominated several times for Pushcart and Best of the Net Awards, published four collections and appeared in Stanford, Johns Hopkins, Harvard, Pomona, Brown, Columbia, Wesleyan, University of Chicago periodicals as well as in Gargoyle, Main Street Rag, American Journal Poetry, Poetry Quarterly, New Delta Review, Brooklyn Review, LA Review, San Francisco Magazine, and The New York Times. gerardsarnat.com. Gerard recommends The Climate Reality Project.