Eight Photographs, August 2017
Artist's Statement:
My plastic people are alive. They portray stories and tales. My plastic people just deserve respect. I find them there, in their worlds, in these shop windows in all towns or cities, trying to get our attention. Their faces come to live in my reflections' works. As a beauty lover, they little by little became my most ambitious project so far and my obsession. Like in a movie scene, they will shout love, happiness, sadness, melancholy, envy, destruction, subversions or force. Their pose and quietness let me enough time to get portraits and create a fantasy with them. They are the main characters. I give plastic people voice to speak louder to the world we live in. They sometimes get naked and give me an individual feeling or emotion, but they can also show me worry about social issues. They can even protest and speak out loud with a challenging attitude towards society.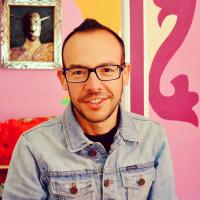 Seigar is an English philologist, a highschool teacher, and a curious photographer. He is a fetishist for reflections, saturated colors, details and religious icons. He feels passion for pop culture that shows in his series. He considers himself a traveler and an urban street photographer. His aim as an artist is to tell tales with his camera, to capture moments but trying to give them a new frame and perspective. Travelling is his inspiration. However, he tries to show more than mere postcards from his visits, creating a continous conceptual line story from his trips. The details and subject matters come to his camera once and once again, almost becoming an obsession. He has participated in several exhibitions, and his works have also been featured in international publications.