Eight Paintings, July 2020
Artist Statement
Color takes my breath away. I painted as a child, and studied art seriously in college. Then I began a career as a writer and teacher in the 1980's, which is ongoing. I returned to  painting and showing my work part time in the 1990's in New Orleans.  Recently, after an illness brought me to dedicate myself to a studio practice---because art has always been healing for me--- I have participated in several group shows and collaborated with other artists.
 I love the principle of palimpsest: that under every mark there is another, that we are always writing over the old with the new. I edit my paintings the way I edit a story. I often wash down the original images and cover them over with new ones, so that the viewer of the final piece can see what lingers from the earlier versions. Narrative emerges from the multiplicity of images.  This technique is apparent in "House of the Priestess," part of a series called "Alchemy Of Night," which I created in collaboration with the photographer Leona Strassberg Steiner, which alludes to spiritualist movements, and the pull of the nocturnal in my quarter in New Orleans. "Serena's Dream" and "Club By the Tracks" are also from this series.
"The Quarantine Series" integrates images of personal narratives during the pandemic. I was in Paris in March, 2020. At first my husband and I were going to wait it out, in isolation in a foreign country. "Waiting" was conceived then, and also "Paris/New Orleans" is a rendering of the trip back. The diptych "Inside/Out" is a work that expresses a sort of equanimity after months of quarantine, and is a self-portrait.  After we settled back in New Orleans, we helped a doctor neighbor who was performing dangerous duty as a pulmonologist at an over-run hospital. He sat with patients dying of COVID-19 in place of family members who could not be present because of the rules. He had to become the narrator, and conductor of that passage. When he became gravely ill himself, he experienced terrifying deliriums: ghosts in the hallways, chatting in his room. I tried to convey the chaos he described to me, and his terror and courage, in this piece. The piece, "Next World Journeyer," includes parts of his diary and images of him as well as images of Egyptian gods, guides in the underworld.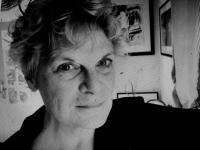 Moira Crone is an artist and writer living in New Orleans. A former director of a creative writing MFA program, and author of seven books of fiction and over fifty published short stories and essays, she has always painted and studied painting when not engaged in a writing project.
She was born in Goldsboro, North Carolina and studied art and writing at Smith College. After graduating from the Johns Hopkins Writing Seminars she took a job in the writing program at Louisiana State University, where she taught for over twenty-five years.
In 2017, after confronting health issues and an extended stay in Paris, she began a serious studio practice in painting and collage. Her works have appeared in juried shows in New Orleans and the region at Lemieux Gallery, Politico Pop-Up 2018, and in a two-woman show, Alchemy of Night, at the 928 Julia Gallery in 2019, and in the 2020 summer group show, Perseverance, at the Second Story Gallery.
Her fiction has brought her an NEA grant, a residency at the Mary Ingraham Bunting Institute of Harvard/Radcliffe, The Robert Penn Warren Award from the Fellowship of Southern Writers, and recognition as a finalist for the Philip K. Dick Award, an international prize for science fiction paperback of the year. Her book The Not Yet, set in a future flooded New Orleans, has been taught in classes on Eco-Criticism, political science, literary decadence, and speculative architecture classes.