My bedroom was full of light when I woke up the next morning. Pillow warm and soggy where my face nested on my dirty hair. It was late. My silver clamshell flip phone was inside one my sneakers which I kept on the floor just off the mattress near my head. I grabbed the phone and snapped it open with my thumb. It was late, 10:08, I had slept in. It had been a long time since I slept in. The simple holiday of a day off of work. If yesterday was any indication, today was going to be a great day.
I got out of bed, already wearing a t-shirt, the jeans I wore yesterday were in a ball at the foot of the bed. I put them on, and rushed down to see Jason, my feet moving quick and light over the wooden stairs. 
The door to the downstairs bedroom was open. Jason was awake, sitting up on the futon, in a t-shirt and boxers. Jason had remade the bedroom into a space of his own in the short time he was in there, he had moved some boxes around, the black t-shirt from yesterday hanging, spread out, on the edge of some cardboard. A flicker of hope for my dream of him living here, the seed planet in fertile soil.
He had changed into a dark maroon t-shirt, which matched his yellow and red plaid boxers, his hairy exposed legs sticking out in from of him. Open in his hands, his black flip phone was plugged into the wall behind him, and Jason was tapping on the buttons, scrolling.
"Sorry I slept in," I mumbled, by way of greeting.
Jason didn't respond right away. He kept clicking, his round head of short buzzed hair leaning toward the phone. A few seconds went by. He sniffed and looked away from his phone to wipe his nose on the back of his hand, the same hand that was holding the phone.
He looked up at me, eyes wet, and said in kind of a loud voice, "I need to go to a pharmacy."
"There's a bunch right up the street," I told him, pointing my thumb over my shoulder, "we could walk, really, or we could drive."
Jason unplugged his phone and stood up, "let's drive," he grunted, stepping past me.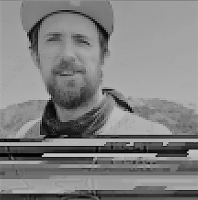 Brian Stephen Ellis is the author of four collections of poetry, the most recent of which is Often Go Awry from University of Hell Press. He lives in Portland, Oregon. He recommends donating to the Warm Springs Community Action Team.