"Earth Speaks," "Birthday Bucket-list," and "Recalibration"
Earth Speaks
And, if you can, do.
And if you can't do, think you can't do
anything, think again. Hold a piece of me
in your hand. Hold it in your hand
and place your hand over your heart.
See what you see. Do not close your eyes.
Recall the way I smell after rain.
Recall how I harden and crack in drought.
Am I washing away or dying of thirst.
Do not close your eyes. If you can, do
something to turn this around. Do not let
another forest die. Do not let greed
and or your way of living—your collective,
global way of using my resources up—do not
let that continue. Do not let anymore lifeforms
become extinct. Do something! Look around.
Walk upon me. Listen to my songs. My many
tongues. Hear my harmony. Notice where
there are tears in my netting. What has fallen,
fallen through and is gone forever. And when
they ask what have you done, at least say
you've been watching. Say you've been weeping
Say you're doing something and say what it is.
If noting else, at least feel your fear and say it.
---
Birthday Bucket-list
Celebrate the birds with your hands, the trees
in your eyes. Act as a voice.
Let your refrain be more than a scented candle.
Walk in a canticle of compassion. Scribble
your constraints in Day-Glo, then sprinkle them
with breadcrumbs. Vegan your meals. Overturn
your inner negative and adventure this
last segment before the hatches batten,
the sky winks closed.
---
Recalibration
Surface brio. Landscapes
of change: What
was ocean. What was land. What was …
 
What might have been remembered is
not.
 
Winking stars. Hybrid flotsam. The jetsam
of abstruse. Unimagined evolving. As
 
time continues, consumes
itself passing. In some realm, perhaps,
the oldest gods wait to be reborn.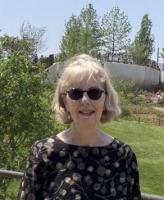 Karen Neuberg's poems have recently appeared or are forthcoming in Black Moon, Glassworks, Gone Lawn, Inflectionist Review, and Verse Daily. She is the author of PURSUIT (Kelsay Books, 2019) and the chapbook the elephants are asking (Glass Lyre Press, 2018). She lives in Brooklyn, NY and is associate editor of the online journal First Literary Review East. Karen recommends the Environmental Defense Fund.