"Drawing Breath," "Bear Garden," and "System"
Drawing Breath
                       for Marlene Tseng Yu
I've been dying to take over
the lost cause division
of fuschia anemones or purple
peonies but couldn't bring any
home for you, who drove me nutz.
From Clinton Community Garden
to South Street—I put up
revolutionary green propaganda:
SAVE THE GARDENS on fences.
Press flesh, spreading the word.
So hard to keep up, focusing on
the hocus pocus of the memento
mori—more power to you.
Thanks for your interest.
---
Bear Garden
Helleborus, weeping fig.
Pacific Street and Flatbush Ave.
Unpainted wooden fence
knocked in by drill truck
to obtain soil sample.
Trash I picked up: Colt 45,
paper coffee cups, plastic
bags, styrofoam peanuts.
Suzanne has tea with
white-gloved ladies at
Botanical Society whose
largest contributor is also
the developer of a strip mall
to go on top of Bear Garden.
---
System
Yeah, we're going to a party,
party meeting and you will try to
behave, won't you mon petite snit.
Riding west. The leading lady
raises a cane "tonight, tonight."
Practice, practice, practice. Riding
wet. A mile of sky jammed in.
Race you to the altar, boys
and girls—slaves of heaven's
crying shamans—light black.
There is nothing I wouldn't do
to get past this experience
of having done it already
for you, whoever you turn into.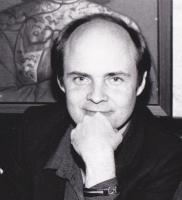 Jeffrey Cyphers Wright is a publisher, critic, eco-activist, and artist. He is the author of 15 books of verse, including Blue Lyre from Dos Madres Press. He has an MFA in Poetry from Brooklyn College where he studied with Allen Ginsberg and also taught. Recent poetry is included in New American Writing, 2017. For many years, Wright ran Cover Magazine, The Underground National. Currently, Wright stages events showcasing artists and writers at KGB Lit Bar and La MaMa ETC in NYC, in conjunction with his art and poetry journal, Live Mag! He regularly contributes to American Book Review. Wright is a Kathy Acker Award recipient for 2018.