"dog," "promenade 1," "promenade 2," and "Butoh"
dog
the dog works herself
through the fence between two gardens
she is on the watch
---
promenade 1                                                 
a statue is watching people strolling
scattering the birds from his head
thinking of the man who locked him in stone
---
promenade 2                                              
the bench is empty
its back board is cracked lengthwise
the statue sits beside
consoling
---
Butoh
slugs crawl on the nitrous wall of the basement
this is their days
their nights
their lives
their demise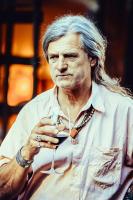 Gabor G Gyukics (b. 1958) is a Hungarian-American poet, jazz poet, literary translator born in Budapest. He is the author of 11 books of original poetry, 6 in Hungarian, 2 in English, 1 in Arabic, 1 in Bulgarian, 1 in Czech and 16 books of translations including A Transparent Lion, selected poetry of Attila József and Swimming in the Ground: Contemporary Hungarian Poetry (in English, both with co-translator Michael Castro) and an anthology of North American Indigenous poets in Hungarian titled Medvefelhő a város felett. He writes his poems in English (which is his second language) and Hungarian. His latest book in English is a hermit has no plural (Singing Bone Press, 2015). His latest book in Hungarian was published by Lector Press in May 2018. Photo by Sándor Gyapjas.