"Does It Take a Village?," "Jesus Confetti," and "Wherever You Are"
Does It Take A Village?
It takes a village to produce a proverb,
and quite a few of the children want to leave:
too many big fish spoil the small town.
They'll spill their soup in walk-up kitchenettes.
There are so many poems in the big city.
They'll think: "It takes a saying to raise a child.
Life is elsewhere, or the world is as blue as an orange."
---
Jesus Confetti
Manna, or flyers dropped from bombers, or
the pollen from a cedar, Lebanese,
or sirens heard around two corners, or
the second snow of January (the first
to stick), or leaves stirred up by running feet,
or chicks a cuckoo pushed out of the nest,
or cigarettes that jumped from railroad bridges,
or drops of blood, or hair, or parachutes,
or acidheads experimenting with flight
(misled believers in their superpowers),
or jacket, hat, and backpack of a child
returning home an hour late from school.
---
Wherever You Are
Are you standing on a corner
waiting for the light to change?
You've got a shopping bag in your hand
and a complicated day to arrange.
Do you have too many errands
and so many people to see?
            Wherever you are,
            are you thinking of me?
Are you in a shopping mall,
your eyes full of metallic light?
Have you climbed a mountain
to look down from the highest height?
Are you walking by a river?
Are you walking by the sea?
            Wherever you are,
            are you walking toward me?
                        On a street or on a bridge,
                        or on an elevator?
                        Are you a performer,
                        or are you a spectator?
                        Have you left the scene of the crime?
                        Buddy, can you spare some time?
Am I standing on a corner?
Do I have some people to see?
Am I in a shopping mall?
Am I walking by the sea?
Am I looking up or looking down?
Do I have too much to do?
            Wherever I am,
            I'm thinking of you.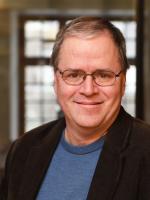 Andrew Shields lives in Basel, Switzerland. His collection of poems Thomas Hardy Listens to Louis Armstrong was published by Eyewear in June 2015. His band Human Shields released the album Somebody's Hometown in 2015 and the EP Défense de jouer in 2016.