"distance intimacing," "Corona Theory Litany," and "to escape eternity for a spell"
distance intimacing
light candles for video conference
                        if none, the aurora borealis (where's the ouroboros?) zoom background will do
 
put on your finest silk underclothes
                        given you aren't going to change from them
 
open the china cabinets and silver
                        set the dining room table-desk with all the linens you can finally get around to iron
 
plate your takeout, soup or frozen veggies lunch
                        taking those oft-neglected extra steps to wipe rims & read a grace poem
 
use crystal stemware for all your virtual networking toasts 
 
pic & post for other lonely loves, likes, and comments 
                        avoid another didactic rant to the social mob 
 
act vulnerable, you know, like there's a global pandemic 
 
when your virtual boss asks you to do something inane
                        admit the best we can isn't really necessary
                                     (doctors, nurses, healthcare officials, and emergency responders excluded)
 
bring your children in as meeting opening acts
                        new magic tricks, dances—a world-wild variety show
 
going grocery shopping together online
                        becomes a family outing, a borrel on Bol!
                                     (corrugated cardboard souvenirs for everyone)
 
instead message your oldest friends
           search the farthest corners of your contact clouds 
                        (worst comes to worst just call your best friend you haven't talked to in months) 
 
the plague is a good time
                 to talk about the past 
 
recount the sacraments of reconciliation and confirmation for your soulmate  
           to further edify your personal escape from organized religion
 
read books round robin in rocking chairs
                        compare conventions like characterization, themes, symbols to the current crisis 
                                     (mostly what education is anyway)
 
take sunshine hikes or strolls in the park (depending on the size of your city)
           you can still greet people as you dodge them 
 
           compliment the scarf wrapped over their face 
                               (not the mask but the eyes behind the mask…)
---
Corona Theory Litany
suggested supplication--no matter the degree of intention--is: "spare us."
Insider trading on the Hill at bright dawn of plague. 
 
Bio weapon released from Wuhan, senicide, or at very least, a dietary anomaly spread by people that eat bats. 
 
Throat-constricting consequence of the iniquity of carnival. 
 
As puny as the flu and withers in temperatures above 80 degrees. 
 
Supply chains will collapse literally right out under your unwiped ass. 
 
Seniors exposing themselves at every store in town searching for elderberry syrup.
 
Can't catch with vinegar, lemons, gargling every day.
 
Before eating, bathe all groceries, fruit, and veggies with Lysol or bleach—after leaving them to air out a few days.
 
A government test for state control and military police tactics.
 
A crisis to introduce legislation to disarm America. 
 
The rich created a pandemic for worldwide recession, in order to get rich.
 
The puppeteers of Big Pharma and Bill Gates' profit off vaccines.
 
U.S. and the entire West dismantling the Chinese economy. 
 
A plague to discredit and/or opportunity for world leaders to turn dictators. 
 
Secret cures in foreign countries: Israel, China, Germany... 
 
A global cellular cover up as we erect the tainted radiation towers of 5G. 
 
Group prayer, religious exemptions, and the cover of Jesus' blood.
---
to escape eternity for a spell
for Rodger Kamenetz, ever the teacher
like dante coughing up a lung
staring back at the maze of waves 
he was spit from 
dripping rags on sand
confronting this overwhelming eternity 
again
who will look back on this plague
as an astronaut escapes space
back into her shuttle 
inhaling as she removes her helmet 
her planet
no longer habitable 
out of the corner of 
her eye
 
what becomes if eternity
needs an exit strategy?
 
if like earth, the heavens 
host just a vast shell
of some promised land
 
then take exception
even to heaven 
follow the spells back to mortal
follow them back to me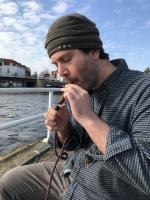 Vincent A. Cellucci wrote Absence Like Sun (Lavender Ink) and An Easy Place / To Die (CityLit Press). He edited Fuck Poems an exceptional anthology (Lavender Ink). He has three collaborative titles: come back river (Finishing Line Press), Bengali-English translation collaborations with Debangana Banerjee, and with Christopher Shipman ~getting away with everything and _a ship on the line (both from Unlikely Books). Vincent performed "Diamonds in Dystopia," an interactive poetry web app at SXSW in 2017, and the poem was anthologized in Best American Experimental Writing 2018. After writing and living it up in Louisiana for 18 carnivals, he moved to the Netherlands to experience sinking some place new. He haunts the TU Delft Library.