There were multiple, yellowed copies of a full-page interview in the Brooklyn's Sunday Eagle Magazine in 1926, where he sounded like Willy Loman's successful brother.  His advice was to be a self-starter.
There were posed headshot photographs of him at 25, 35, 39, 56.  Him in the NY Times feature page teeing off for the Siwanoy Country Club Snowbird Tournament. There was his formal resume as of 1943, where he emphasized that every change in his career was "an advancement."  There were letters and notes; speeches in manuscript, speeches reprinted; his text book from 1916, published by the American Bankers' Association (still a text on Amazon), The Clearing House;  a check for $1., for  a year's work at Washington during World War One;  a handwritten note on Clearing House stationery, dated 12-7-1903 for "Miss Garlich" (Nana's maiden name), beginning to "My Dear Little Girl" and apologizing for being late for their date; report cards from Chillicothe High School in 9th grade, in 1900, all A's; his 1928 letter of resignation from the Discount Corporation; letters of dispute with the Secretary of the Treasury in 1956 over his right to a government pension, including letters of support from Jesse Jones, whom he addressed as "The Boss"; also Jesse Jones's 1951 book about the RFC, Fifty Billion Dollars, where Jones gave tribute to him for recovering an RFC loan to the the Prudence Company of New York, a mortgage loan company, dating from the 1930s.  Thanks to Grandpop, the RFC realized a $15 million profit.  There were letters from Arthur Eisenhower (Dwight's brother), an old friend from Kansas City banking days; from Thomas E. Dewey thanking Grandpop "for the good things you say about my public service"; and best wishes from Missouri's Senator Stuart Symington, Truman's new Administrator of the RFC. 
 These artifacts and details impressed me.   He'd had traits that I recognized in my mother.   "Rising in the world" meant making a contribution to society, and in his case, to the systems of banking credit and the economy.  He understood big money and how to make it work.   Credit, he believed, had to do with character, industry, and trust.  At the same time, he warned against buying stocks on margin and giving loans without collateral.  His advocacy of the Federal Reserve system had been to prevent bank failures; later his work for the RFC was dedicated to recapitalizing banks and stimulating lending after the start of the Great Depression.  He wanted his country to thrive.
But he'd also been an overbearing father.  He'd opposed Mom's going to college, even after her principal wrote: "Miss Thralls is a capable, conscientious student of more than ordinary ability….She is just the type of girl that ought to go to our best colleges."  Grandpop had insisted: "College isn't for women."  Nor was a paying job.  She could volunteer, yes, which she did for Travelers' Aid, but paid work for a woman was socially unseemly. 
Nonetheless, she was his favorite.  He admired her intellect and will.  He discussed his business problems with her, had her read his speeches, and even took her to formal business events instead of Nana, who embarrassed him.  Finally, he relented and let her go to Cornell, where her older brother had friends, one of whom became my father. Although she quit Cornell in junior year, attended secretarial school, and then art school, Dad and Mom only started dating after Dad had graduated and started as a chemist at Dupont in Newark.  He impressed her as stable and down to earth, especially since her previous relationships had been with a murderer (she told us) and then an alcoholic.  Grandpop was unimpressed by Dad and had looked down on the Henrys, their candy business, and their social pretensions. 
My sister believes that Mom had to get married.  This, of course, is contrary to Mom's telling me that she had been a virgin when she married; that that had been the morality of the times.  In fact, Mom had shown me a letter from Dad then, saying "no having before the wedding."  Their wedding was to have been in October, but suddenly Grandpop had had to make a speech in California on that date, so they cancelled the larger wedding that Mom had planned and moved up the date for a "small family wedding" (her words). 
As far as I know, they never asked Grandpop for money.  Dad always assumed that Grandpop would leave Mom wealth (Dad's own inheritance from Grandpop Henry had been stock in the factory), but by the time Grandpop Thralls died, any fortune was gone.  Instead, Mom inherited the responsibility for Nana Thralls.  She and Nana had nothing in common, she felt.  She wrote me then: "As a child, I ignored her and became independent early, because she never could answer questions and never had time to listen or pay any attention.  She was either sick or busy with my brothers.  So early in life I used to tell her I must have been adopted, because she never could be a mother to me.  It must have hurt her, but I from then on I used teachers and books as my mother.  I did not like her.  I felt sorry for her inadequacies and sorry for my father because he kept on studying and learning and developing and she didn't make any effort at all to grow with him.  I was proud of his achievements, but ashamed of her lack of interest in anything beyond her boys and her naps and shopping.  I was always embarrassed about my parents' home.  So was my father." 
Eventually, they moved Nana Thralls into a nursing home, where she outlived Dad by two years, and Nana Henry by nine, dying in 1978.  Except for visits from children and grandchildren, landscapers, tradesmen, and a weekly maid, Mom lived alone until her death in 1985.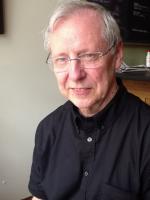 DeWitt Henry's books include The Marriage of Anna Maye Potts (winner of the Peter Taylor Prize for the Novel); a trilogy in memoir concluding with Endings and Beginnings: Family Essays (MadHat Press, 2021); and a collection of notes and essays Sweet Majoram (MadHat  Press, 2018).  Poems have appeared in Ibbetson Street, On the Seawall, Plume, and others.  He was the founding editor of Ploughshares and is Professor Emeritus at Emerson College. Details at www.dewitthenry.com. DeWitt recommends contributing to Solstice: A Magazine of Diverse Voices.