"Conspiracy," "Flood," and "Our Aging"
Conspiracy
It is my duty to cast doubt.
I take the most innocuous of circumstances
And fashion new twists, find hidden
Relations, review lost alternatives.
 
History can have any number of plausible presents.
 
The past does not lead anywhere:  it is
Simply the collected bread crumbs you have left
In getting here.  I highlight
Certain events, rearrange the bread crumbs,
And suddenly this happenstance looks
More directed:  a product and not
Simply a point in the inevitable.
 
Deny nothing. I have no conclusion,
Only the talent to see different roadmaps.
Don't get me wrong:  I do not doubt
You were meant to be in this place at
This time.  The chain of events
Was known to play out just like this
Ever since the first universal nano-particle
Exploded into time and space and causality.
Only with the trillionth of the second
At the penumbra of the universal beginning
Was your situation not ordained.
But forgive me if I see clearly,
And underline the fact, that what
Did not matter might have mattered,
And that this deafness is still full of single
And irrefutable caustically crystal notes.
---
Flood
So this is the five hundred year flood
Come again, just as it did
Last year. Rain for days up North
And rain down South and the
Marshes and the lakes full and
Mr. Mississippi broadens at the shoulders
And, we used to say, we got
Fun, but it isn't fun.  Filling
And stacking sandbags is just
Something to do to keep our minds off
Tragedy.  Insurance clerks practice
Low-balling claims since people
Need money now, not in six months
When repair contractors can get to them.
Muddy water and chemical overflow.
A snake or two, with boys on high
Porches counting them go past, family
Dog huddled beside them and parents
Thinking they should have gotten out
But you can't have a five hundred year
Flood nearly every year and will
A boat come and we haven't
Fixed all the damage from last year.
Weatherman says this rain will end
By midnight, the crest will come through
In three days.  By next weekend
It will all be over.  But, no, it won't.
---
Our Aging
It is our fault:
We have led lives that are too long,
 
We have been declining at too slow a pace.
Our needs are too heavy:
We ungracefully persist.
There are younger, stronger
Producers
Who need the incentive to create:
An incentive which by us would be simply
Consumed.
 
We are not a good investment.
We tilt the balance sheet to shadow.
What little we contribute
Can be made up by cutting
The cost of commerce, by
Giving money back to the banks,
By seeding the machinery of consumption,
 
By allowing the fat to grow
Incontestably fatter.  Our era
Is past, and we merely hoard
Pockets of scavenged time
That would be better used in the colic mouth
Of the retooled engines shouting an economic relevance.
 
We did not mean to be your dragging anchor.
We did not mean to hold you up.
Our needs were never intended
To disrupt common commodity exchanges,
To force our own children to swallow minimum wage,
To stop the life-giving purchase of new factories.
 
Our time is gone, and we understand.
Put us away, turn out our
Unproductive and ridiculously lingering lights.
Let us all see how much more consumption
You can afford with the return of our measured maintenance,
With the distended filaments of our gratitude,
With the humbled waste of us in your rearview mirror.
 
Let us be done.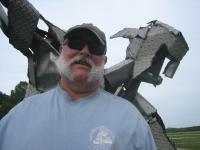 Ken Poyner's four collections of brief fictions and four collections of poetry can be found at Amazon and most online booksellers.  He spent 33 years in information system management, is married to a world record holding female power lifter, and has a family of several cats and betta fish.  Individual works have appeared in Café Irreal, Analog, Danse Macabre, The Cincinnati Review, and several hundred other places. Check out www.kpoyner.com.