"Close Your Eyes," 'O lutta perpetua...' and "Repeated Memories"
Close Your Eyes
O close your eyes say silver stalks grow out of the black earth can a silver tree soars down you if we become yellow see if we become a small silver wheel turning
By a purple pyramid dissolves in the orange the pair of black specks falling dawn's a monoplane at an airfield early a white pyramid of light light white plants grow tall
What a puff of white smoke above a house so three yellow candles proudly yellow tentacles we a golden rain falls during the night hailed fat bubbles of mercury float up
At a huge black cow the yellow river flows across the black earth twilight's a black queen sits on a golden throne last do people and cats turn white when electrocuted gleaming God drinks this orangeade
Whose orange ladder descends into our hearts broad a musical note floats upward in the orange stripes the balloons float up and up and glowing white fish swim through the darkness bright black dots bounce away in every direction stars two black dots cling to each other
Through a purple turtle the tiny sun being born, shining, blowing up perilous two silver rivers flow together night the silver sun, with delicate threadlike rays
O'er a star drowning in the black water the white seat made from spiderwebs ramparts black butterflies with lime outlines we brown mold eats away the torso watched a profile tries to emerge
Were a turquoise vase so a pulsing candlestick gallantly a big yellow hole in the middle streaming we see the surface of the sun
And silver hair spreads out in the water the shoots come out of a tree stump rocket's this blue being, this purple being, flies around the landscape red each constellation a different insect glare the gold letters are unreadable
The turn into golden mist bombs light is.  Light isn't.  Light is bursting the world is not beginning in it leads into the past air before the raccoon face
Gave a yellow translucent fish, a ghost fish, feeding proof the surface of the world is tree bark through a bear's head, a werewolf's head, a cat's head the gold letter H night a white mountaineer
That a tunnel of overarching trees our beings, cracked beings, reflected in water flag worlds never quite born was bits of curdled milk in the black liquid of the world still a young white oak, reaching out to me with many arms there living under a giant jellyfish
O a big blue bat, a big blue bird say a raspberry sun behind a black mountain does a large yellow N tilts to the right that light leaks into the bottom of the world star the eye bounces between bright flames and dark shadows spangled there's a golden clash of civilizations banner an orange tree pulses yet a crucifixion wave a plane's wing bursts into flames
O'er a galleon, reflected in the river the frightened animal's open mouth land a table covered with candles of a large hole at the top of the world the cars drive toward me with muffled headlights free an animal sitting high in a tree
And wearing an archbishop's hat the tadpole's face, with eyes and mouth of light home the grass blades are made of light of the spiderwebs are made of light the woman's head turns into a horse's head brave her hands seem to be in flames
---
O lutta perpetua say pleasure boat can fellows' sake you press buzzer see oil park
By boiling fires the polished onyx dawn's lucky dagger early murky songs light Bilbao bust
What pounding flesh so brawn exchange proudly Chanukah hearts we bought lemon hailed holiday derangement
At insoluble tongs the situate dunk twilight's eternal struggle last Hammond organ gleaming pocket tension
Whose legendary space broad salvage posse stripes lemonade hate and poison dikes bright tolerated almonds stars broadcast donkeys
Through beefy ribbons the bollixed sobs perilous daydream believer night breathing heathen
O'er velvet preeminence the porous registers ramparts miss silver we moon lockers watched impure resignation
Were trembling honestly so delegated liquor gallantly price aggregated streaming peace ointment
And drenched succession the monied policy rocket's dingdong sports red pelvic session glare millionth season
The plastic bracket bombs delicious premiums bursting filament loss in dogday lights air final bildungsroman
Gave bombastic singalong proof beyond heartaches through nonexistent diorites the breakfast daemon night lily brain
That wrongdoing sung our broken causeway flag follows Silverado was tough wagontrain still informal pockmark there incomplete rising
O lutta perpetua say ragtag orthodoxy does progress state that salad operators star dregs spread spangled holiday offering banner dignity parade yet mindful size wave taught peanut
O'er heritage faith the zombie corridor land locking harps of virtue thrones the harmonious offices free sleeping ices
And sardonic gaming the limitless elephant home destructive sight of market deeps the meaningful slice brave harlequin teeth
---
Repeated Memories
O Steve Kurens' backyard say The tall rhododendron bushes can outside the 4th grade entrance you to Marshall School see Andrea Mentzel's living room
By the night she had second thoughts the The curving sidewalk dawn's below Steve Weiss's house early The curving panoramic road light above the university in Perugia
What Finding a tall pot plant so with David Turkel near Pathmark proudly Mitchell Price's front door we That little business district hailed on Ridgewood Rd. in Maplewood
At Playing tennis against Matthew Waldor the Parking with Louisa outside a nice frame house twilight's in Rockport, Mass., last on that fatal day, April 26, 1986 gleaming The hedge with spiderwebs in Grenoble
Whose Waiting for Dad to pick me up broad at Dave Gurien's house stripes The corn plot by the tennis courts and at Domaine Université in Grenoble bright Walking on a snowy road stars with Chuck Schwartz in Williamsville
Through The A&P parking lot in East Hampton the The little crabapple tree perilous across from Dad's apartment night during the last years of his life
O'er Stopping near a Maine paper plant the on an overnight drive with Owen Andrews ramparts from Nova Scotia to Vermont we The bar near Siracusa's archeological museum watched Gary Lovesky's house
Were on Cameron Ave. in Cambridge so Attending a reading by Alice Lichtenstein gallantly under the Brooklyn Bridge streaming The doctor's office near Joe Zente's house
And The shady oaks the near the kindergarten door at Marshall School rocket's The skinny park on the bend red in the East River at Houston St. glare The shady part of Hartford Rd.
The near the Reillys' house bombs Playing tennis with Steve Riegel bursting during a college summer vacation in Hearing about the Shah's death air with Cynthia Zarin in Annecy
Gave Driving past the octagonal church proof in Richmond, Vt., through The boat trip the with Uncle Milton and Aunt Miriam night near Moriches Inlet in '91
That Walking with Peter Baker our by the Seekonk River and cemetery flag Crossing a big scary street was by the waterfront in Gloucester still on that fatal day, April 26, 1986 there It was 90 on the South Orange bank clock
O Driving with Bill Wood say past the fruit stand near Ellsworth does Seeing porno pictures through a peephole that in a soaped window on Wall Street star on the day of the Hill-Thomas hearings spangled Stopped at the light banner on Route 18 in New Brunswick yet where Dad had a costly accident wave The Cioppetini house on Center St.
O'er where Our House meetings were held the Sleeping with Cynthia Zarin land at the edge of that Grenoble soccer field of A huge party suddenly arriving the at a sleepy seafood place in Catania free Sitting with Cynthia Zarin and a Yugoslavian couple
And at our campsite in Chamonix the Waiting for Ben Blackmer home at the Cincinnati recording studio of Watching Mr. Duckett play basketball the at South Orange community center brave during high school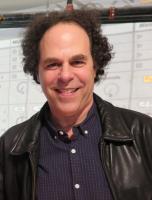 Michael Ruby is the author of eight poetry books, most recently Compulsive Words (BlazeVOX, 2010), American Songbook (Ugly Duckling, 2013), The Mouth of the Bay (BlazeVOX, 2019), The Star-Spangled Banner (Station Hill, 2020) and the forthcoming Close Your Eyes, Visions (Station Hill, 2024). His trilogy in prose and poetry, Memories, Dreams and Inner Voices (Station Hill, 2012), includes ebooks Fleeting Memories (Ugly Duckling, 2008) and Inner Voices Heard Before Sleep (Argotist Online, 2011). He co-edited Bernadette Mayer's early books, and Mayer's and Lewis Warsh's collaboration Piece of Cake (Station Hill, 2020). He lives in Brooklyn and worked for many years as an editor of U.S. news and political articles at The Wall Street Journal.