"Bodega Privilege" and "Hidden Figures of Harlem"
Bodega Privilege
Walking daily between schools,
I've become a bodega connoisseur.
 
 
                                    I.
 
The one inside the train station doesn't count.
Too small, way overpriced.
They don't even refrigerate their drinks.
It's so stuffy, the clerks are always sweaty
and their bananas look wilted.
I only go there when desperate.
 
The one with the maroon awning is the kind you can't see in,
too much stuff covering the windows,
but they have a friendly cat who greets me.
They're somehow better in the mornings than later.
 
I avoid the one diagonal from school.
I used to go there until the owner says something flirtatious
that strikes me as a bit slimy.
I hear him do that to a female student, too.
When I mention this to a couple colleagues,
I learn they feel the same.
 
I also skirt the one by the closed high school,
simply because I saw a dead rat outside 
on the sidewalk, and can't erase the mental image.
 
 
                                    II.
 
The new one a few blocks out of my way is beautiful:
they've just renovated,
posted Grand Opening specials,
even added a comfortable dark wooden table.
When I ask if there's wifi,
the owner looks conspiratorial,
writes me the password, but asks me
not to tell the whole world.
I realize my privilege has just bought me
a free comfy workspace.
 
My Arab colleague tells me all the bodegas are Arab-run.
I hadn't known.  I wonder about their national origins,
which versions of Arabic they speak,
since I can't tell the difference. 
I listen to the music of their voices 
calling out orders to each other
with such a wealth of phonemes.
 
My favorite bodega has just expanded,
given their sign a face-lift in fancy font,
installed a handicap ramp down to their door.
I get an egg and cheese on croissant
and coffee, enjoying their airy well-lit space
and friendly workers. 
 
Their coffee is always somehow better than elsewhere,
and still a dollar.  Once though, I order my usual, 
"Milk no sugar," and as I start sipping,
I gag on sweetness.  I think they've screwed up, 
but don't bother complaining.
Next time, same thing happens. 
I conclude either their coffee is now pre-sweetened
or maybe their new brand is just naturally sweet.
Oh well.  I'll keep eating their egg-and-cheese,
but get coffee from the Ass place.
Over a few avenues, the green awning
proclaims "A&S" in large white flowy lettering,
except from a distance, it's easy to misread.
 
 
                                    III.
 
I ponder privilege and profiling.
My favorite place is also preferred
by hordes of teens from some school nearby
that must dismiss earlier than we do. 
They pack the store, fill the ample sidewalk space.
The staff roll their eyes, yell when noise
gets out of hand. Yet back they come each day.
Perhaps the staff is also kind, appreciating their business,
chiding them like affectionate trusted familiar adults.
Or are the teens inured to yelling and profiling, 
oblivious like proverbial fish and water?
 
I am privileged here by gender, ethnicity, language, and class.
I can choose among any of these stores
and the chichi uptown fancy coffee place,
where a cuppa is triple the price
and where I saw a film crew and an actress
from Orange is the New Black.
 
I can muse on inequity and stereotypes
safe in the comfort of my paycheck
and business attire.
I can waltz by the cops in and around
the train station, wary but unafraid for my life.
 
Bodegas for me are a treat and a curiosity,
not an income lifeline,
as for their immigrant owners,
eking out an existence
on the edge of the gritty sidewalk.
---
Hidden Figures of Harlem
He's always there, my favorite guy
walking his beat between the Jamaican smoothie place
and Dominican hair salon.
Skinny, old, brown-skinned, wearing
glasses and a rastacap,
smiling and nodding at passers-by.
 
I don't know him, but I do know
the tall gracious colorfully dressed tour guide
who I run into mid-crosswalk.
She's my star student's mom. 
She hugs me, then herds her flock of tourists 
across the intersection,
headed for that mural that all the tour groups 
gaze at, round the corner from the 
National Black Theater.  
 
The other mural which I hope they see
is off Lenox, paying tribute to a man who's passed.
It's vivid, gorgeous, and detailed with portraits of his 
descendants.
 
The unseen caretakers of the community gardens
nestled hither and yon, 
on Park and 5th and side streets;
the beauty salon workers
from Korea, the DR, and the islands;
the Japanese and Chinese restaurant workers
who tailor their offerings to American palates
--these are the figures unseen by the red double-deckers
loaded with tourists snapping pix of the Apollo,
the figures for whom Harlem is home,
the steady flux of gawking 
visitors simply background static.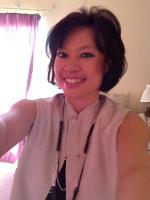 Celest Woo is an English professor who has taught college in NY, NJ, and CO. She is now a teacher at Trevor Day School in New York City. She has published poetry, memoir, fiction, and scholarly work, and is also a modern dancer and choreographer.