"Assembly," "Hunger," and "Internal"
Assembly
When the world is shaking
you hang on to every shell
and fractured form.
 
Bets come home
motors hum every on
great endless once.
 
In that pebble a magic fish
answers your questions.
within your grip
dime and democracy.
 
Ride a cloth of sound
mightily and proud
full brothers and sisters
of the up and down!
 
You study burn and sting
trapped in lint
swimming in nostalgia,
 
Dropping in and out
of the contrast of surrounds
stretching back and forth
trying for even measure.
---
Hunger
onions and rice
at the end of the month.
we were lucky.
the neighbors grew vegetables
and had extra.
 
onions with rice. and then,
only the neighbors' vegetables
 
and the fruit
the chickens left
that fell from the mango tree.
---
Internal
internal
talk about the
same bullship
 
sitting with every
one you never
knew never understood
 
never.
thinking about the think
 
i am marked
you will never
hire me
 
I'll sell you umbrellas
in the street
 
socks in the wind.
 
stretching to pop
tired
twisting to wrench
release from
my heart
I'm a piece of paper.
 
my own thoughts
I think
and some of yours
we think
 
we think again
we die.
the.
 
afraid in my body
afraid to sleep
to close to open
my eyes
 
to feed in my system
to swim in my sea …
everyone can teach you.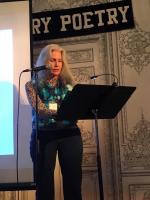 Mindy Levokove is a multi-media performance poet; a member of Brevitas, who sings for peace, and, with Global Water Dances, she dances for water. She's performed in many, assorted, iconic New York venues, and published poems in Voices (NYCWP), Gem Magazine, The Journal of Speculative Poetry, The Literary Review - East, Curare, Brevitas #14 and #15, CLWN WR, Stained Sheets and other journals. For more than 20 years, Mindy has curated and co-curated readings at ABC No Rio and at the 6th Street and Avenue B Community Garden. Her forthcoming poetry collection is Mount Eden Avenue. Mindy recommends the Southern Poverty Law Center.