"As a Data Point," "Bureaucracy," and "Business"
As a Data Point
It has been determined
By the best statisticians
 
By our best statisticians
 
That, on average, a driver
Will have an accident every
Forty-two thousand driving miles.
 
Around such, automobile insurance theory
Is based, incentives created, special
Rates bestowed, expectations traded,
Morbidity and mortality paired
To derivations, discounts expired.
I drive at forty-one thousand,
 
Four hundred and ninety miles.
I know there is a dark car behind me.
I know at the intersection light camera
My vehicle shows on the monitors
Outlined in yellow, the current mileage
Updated in a small screen insert.
I grip the wheel with both hands
 
But don't get me wrong.  I am
Looking forward to the coming smash:
To the car racing out of the unseen alley,
The cyclist arching left from the right lane,
The delivery truck that mistimes
The three-way intersection light.
 
I celebrate the inclusiveness of it.
 
I want to do my part, to round
Out the numbers, make the balance sheet
Balance, the rate and discount
Schedules meet their makers' meanings.
 
I want to be included, my feet
On one pedal or the other,
My spot on the graph earned.
---
Bureaucracy
One day the air stops moving.
Clouds stay where they are.
Flags hang limp.
Leaves, when they fall,
Fall pulsing straight down.
Amber waves of grain
Do not wave, they jut
Full up, insensitive.
There is no breeze in a young mother's hair.
No blown dust to sting the eyes.
 
A commission is set up
To determine why our wind has stopped.
One subcommittee is to study cause,
One is to study effect,
One is to assign blame.
The first two can be tested,
The third the smart members join.
---
Business
The no-tell motel just one street
Off the lot at Chrystal City Four
In Washington, D. C., is not
Doing the business it used to.
It never had an evening clientele,
But lunch hour was rollicking.
Not of late, though, given
The pandemic, the riots, the protests.
Not much overhead, though.
A shabby place for shabby affairs.
Little maintenance, beds made
By three in the afternoon.  Too many
Receipts in cash, a bank run –
Cash bag and thirty-eight stuffed
In a silvery metal briefcase –
Before four o'clock.  All those years
Of fat, easy business, and now no
Sneaking around, no fun at all.
I wonder if they even lock the rooms.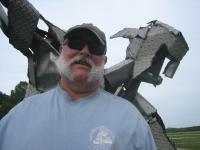 Ken Poyner's four collections of brief fictions and four collections of poetry can be found at Amazon and most online booksellers.  He spent 33 years in information system management, is married to a world record holding female power lifter, and has a family of several cats and betta fish.  Individual works have appeared in Café Irreal, Analog, Danse Macabre, The Cincinnati Review, and several hundred other places. Check out www.kpoyner.com.