"Ariel's Choice" and "Girl on the Subway Grate"
Ariel's Choice
We watch The Little Mermaid
side by side, sharing popcorn.
 
Cozy, until I lean forward,
dismayed to see Ariel agree
to give up her beautiful voice,
transform her natural body
to win the love of a man.
 
Does my granddaughter react?
 
No, she doesn't squirm a bit.
 
Living in a home
where Mom is the lawyer
and Dad's salary supplements,
my granddaughter doesn't yet see
Ariel's choice as anything more
than imagined magic, a fairy tale.
 
When should I tell her
that two centuries ago, 
Hans Christian Andersen
wrote a story that mirrored
the sacrifices of women
from his time to mine?
---
Girl on the Subway Grate
I always thought symbols were those things you clash together—Marilyn Monroe
The "blonde bombshell,"
not born a blonde
or with the name
we know her by.
 
The "ditzy" blonde
who liked to read, who
desired the dramatic roles
she was denied.
 
Was it even plausible to think
with that figure and that face,
Marilyn Monroe could succeed
in 1950 as something more
than the girl on the subway grate,
air billowing that iconic white dress.
 
Did we care, if she hated
being a "symbol," a word
she mocked in a pun,
calling it a noisy metal thing
that clashed against
the more nuanced woman
we never got the chance to know.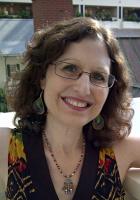 Jacqueline Jules is the author of Manna in the Morning (Kelsay Books, 2021) and Itzhak Perlman's Broken String, winner of the 2016 Helen Kay Chapbook Prize from Evening Street Press. Her poetry has appeared in over 100 publications including The Sunlight Press, Gyroscope Review, and One Art. She is also the author of two poetry books for young readers, Tag Your Dreams: Poems of Play and Persistence. (Albert Whitman, 2020) and Smoke at the Pentagon: Poems to Remember (Bushel & Peck, 2023). Visit her online at www.jacquelinejules.com.