"Arbitrage," "Shutter," and "Funerary Meaning"
Arbitrage
Fog rises from statues in Bergen, from a unicorn's neck
and from a girl's long hair that falls across it.  She loves
the creature and does not want it to leave; but its
blank, distant eyes seem to understand that it must
soon dissolve, only to come again in a fine
mist, to inherit the earth.  Before Olive Oyl, Sweet Pea,
Bluto, and Wimpy, there were cave-days on the desolate shore,
surf's incessant thunder, Sea Hag's cackle and dirty tricks,
cold hours, life-and-death with bald zombies that looked so much
like him.  So out of rock soil he scratched a plot for that strange,
green leaf.  Yes, that rhyme, too.  Topographically organized
maps of auditory space and of the body surface
in the superior colliculus can therefore
orient the eyes (and the head) in response to
a variety of different sensory stimuli.
---
Shutter
The fjords:  silver harp string coiled over a thousand miles.
She molded horrible animals out of the soil, then
set them loose.  He who feigns a winged horse, does not
therefore admit that a winged horse exists; that is,
he is not deceived, unless he admits in addition
that a winged horse does exist.  In Oslo, the white grounds
and white, enclosing swirl dull the yellow of their
palace.  Farther down that long, gray line  --  Karl Johans Gate  --  
by the National Theatre, Bjornson and Ibsen
stand, bronze eyes contemplating nothing.  All sinister acts
are sheet-lightning portending the real thing, chaotic
elements that precede creation.  Only sky,
the old land of ancient bear, ancient fox,
and on the ground, only a black, lensed box,
already always old, already always cracked.
---
Funerary Meaning
Although saccades can occur in complete darkness,
they are often elicited when something attracts
attention and the observer directs the foveas
toward the stimulus.  Are there any spirits entirely
separated from matter?  Each of these creatures is a world
of its own light, milky-white, soft galaxy, inhaling,
exhaling cloud-edges, bulbing orange-eye center up.  What
miracles grew from the ground she tilled.  But then
how ridiculous would be the effect of names
on things, if they were exactly the same with them!  For
they would be doubles of them, and no one would be able to
determine which were the names and which were the realities.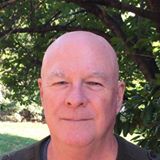 Joel Chace has published work in print and electronic magazines such as, Tip of the Knife, Eratio, Otoliths, Word For/Word, and Golden Handcuffs Review.  Most recent collections include Humors, from Paloma Press, Threnodies, from Moria Books, and fata morgana, from Unlikely Books.  Joel recommends supporting locofo chapbooks.