"Albert," "Waiting," and "jerzy kosinski/magda szabo"
Albert
Albert was crazy
History for the global world
A hermit wearing loafers
A bottle of wine in a brown
paper bag, we yearned for it
Sometimes Vodka, Whiskey, Rum
It all got our adrenaline going
Mild tempered, Albert rambled about
world produce
His language compartmentalized into
words, "drink, eat, death, monster…"
He laughed, quenched his thirsty throat
swigging unfairness into his gut
In his own world…
It has to feel good to own
the dark alleyways
"Sit down," he says.
We face tight hands around the bottle
and drink until narrowly slipping
into someplace else
---
Waiting
Waiting for an angel to circle, drop
threads on our faces, we cover our eyes
in this system of the obsolete.
After awhile, we are meek in our armchair
watching TV…
feeling lazy, thinking, we have time.
Gather yourself.
The bullets fly on this hot summer day
into your skin.
---
jerzy kosinski/magda szabo
The lied truth in degrees of history and sociology meant nothing escaping fake names changed to live with steps taken for a full voice howling which made magda squirm but she could the hear elementary children scream of not being allowed to speak who became a household name since she was a burnt out novelist later in years while jerzy created a false foundation for despised communist plagiarizing words with odd jobs to survive acting on a private farm where animals play with peter sellers as he laughed tripped on his own head but the painted bird was gorgeous watching while magda loved an odd flow of ink and wrote smoothly about a tycoon she once knew but the communist killed him on tv where the door was not a door which was popular with the country and jerzy was not a jerzy in the movie reds while thinking thoughts horrific that he wrote about the blind dates and manson murdering sharon tate wishing he was there to write about blood and pregnancy snuffed out accusing a wild man with long hair crucifixion of crosses crying across the country putting plastic bags around the heads of the world suffocating them with drugs and alcohol so bye jerzy coward of life bye magda brave with words fighting for a life mostly taken away hurting eyeballs of communism which see but jerzy closed his while magda opened hers both yelling in different tones accents in different places surviving the flying wasps stinging wings creating hurt on their thighs swimming quickly in water veins loosen while birds chirped notes out in painted bright colors printed for children of the holocaust jerzy and magda grew into another neighborhood and accepted their fate of alligators chewing on their bones to break some immortal feeling that they are done with bleeding on the swamps edge with fluoride dripping from their teeth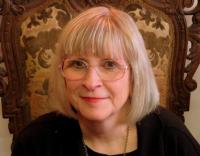 Gloria Mindock is the founding editor of Cervena Barva Press and one of the USA editors for Levure Litteraire (France). She is the author of five books of poetry, most recently, I Wish Francisco Franco Would Love Me (Nixes Mate Books).  Widely published in the USA and abroad, her poetry has been translated and published into eight languages. Gloria has been awarded the Ibbetson Street Press Lifetime Achievement Award, the Allen Ginsberg Award for Community Service by the Newton Writing and Publishing Center and the 5th and 40th Moon Prize from Writing in a Woman's Voice. She was the Poet Laureate in Somerville, MA in 2017 & 2018.