"Abigail Lee's Sunglasses" and "Startle and Flinch"
Abigail Lee's Sunglasses
Your gut can't know
if the literature is correct
Contact
                  a spring flower on the floor
              means any impression counts
                         cyborg, no cyborg
---
Startle and Flinch
Lust drive
startle, flinch, fear
the bifurcating exits
split curbs and sky between
the silhouetted highway sequencing
the nude bathers
the clay of skin
the sand
the stench of bodies
pocks of starch in shadow
the uncorrupted intention
Fetal shape the ocean
bowl of passion
and unformed substance
have mercy on me
have mercy on me, devil
devil of flesh
              you begin as an O
and all you want is a quiver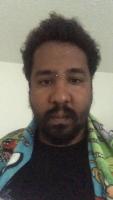 Darryl / Dadou / Baron Wawa is a Port-au-Prince born Haitian-American who studied Photography and Creative Writing. He enjoys chocolate and good books. That said, maybe a movie is a good book. He loves to work with images and words and their pairing.