"A City Shall Rise" and "Reaching for the Moon"
A City Shall Rise
We plant our poems aside this bus stop,
hoping to leave some of our seeded selves here
upon the weeds of earth, granted the lesser parts
of ourselves, we plant, as the route will carry
the rest of our bleeding parts away.
 
We too often look down.
Earth meanwhile awaits our birth, firms our feet,
allows our boost to sky. And then, we lift a face.
Waiting to see the countenance of our human race.
The treasure is not the passing river of steel.
 
The journey ahead is a slicing through the valley.
Eye to eye to eye to eye, high-rise windows to souls,
we shall see life all around us, even now as is plan.
As the city blurs aside our face, we look up.
And see ourselves.
---
Reaching for the Moon
And so we went flying a kite.
At night.
Thinking the orb a canvas,
just a woven white rag.
Perhaps it would fishnet the sky
on the way to Mars
and swirl a tail of twinkling stars
and the runaway moon.
 
Granted, there is fear.
Maybe a nightmare
that maybe a loose thread
at our sweaty hands might shred
and all the world might fall away.
And sky might just break apart.
So soon we are a mourning.
A broken heart in the dark.
 
For, inevitably things do fall.
Sure as we shut our eyes.
If only to instead innocently sleep.
If only to simply believe
and just let mercy be. Even if
we have momentarily forgotten
when to hold,
and when to let go.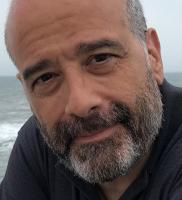 Joe Bisicchia writes of our shared dynamic. An Honorable Mention recipient for the Fernando Rielo XXXII World Prize for Mystical Poetry, he has written over two hundred individual works that have been published in over one hundred publications.His third poetry collection, For You to Heal is forthcoming and will be published by Cyberwit. Love Love to Love and widewide.world to unwind, both also published by Cyberwit, challenge the reader to cut through the layers and complexities of the world and find at the core the true meaning in this gift we all share, simply the God-given gift of love. His website is www.widewide.world. Joe recommends The Society of Saint Vincent de Paul, SVdP Cares, Hurricane Ian Relief.