"54 West 21st Street" and "Twenty First and Sixth Avenue, Please"
54 West 21st Street
Waiter, waitress, cocktail waitress, server
             call me whatever you want.
                I don't mind. It treats me well.
It's a job that doesn't require a college degree
                (as most jobs that end at 4am don't)
                            but I need proficiency in psychology,
                        street smarts, acting, ballet, and charisma.
             I have mastered them all.
 
Flirt.
             Keep them interested.
             Keep them here.
                        Keep them ordering top shelf.
 
Maneuver trays full of martinis
             across a dance floor
                            to
                                     packed pool tables.
Arch your back
             raise your arm to avoid
           a careless pool cue
                                       or a hand trying to grab your attention
                                     only to order another Stella.
 
Smile.
             Flirt more.
                          Give him a fake phone number.
             Or better yet, a fictitious jealous boyfriend.
               Toss out the phone number, but keep the cash.
             Always get 20%
                                        or more.
 
By the end of the night
                          they will all become blurry faces
               wild hands
                        failing livers
                                      and rent checks.
---
Twenty First and Sixth Avenue, Please
Wake up
             Suffocated by the sun.
                          Disoriented and groggy.
                                       Chin throbbing.
                                                    Hand caked in blood.
 
Sit up.
             Stomach churns.
                          Eyes focus.
                                       Waitressing book on the table.
                                                    Open.
                                                                 Empty.
 
Stand up.
             One shoe on.
                          Sock in my pocket.
Grope around for other injuries.
             No other spots of pain.
                          No cuts or bruises or contusions.
                                       The chin probably needs stitches.
                                                    A skull and crossbones bandage will have to do.
 
Still in my clothes from last night's shift.
             Only have an hour to get to work.
Brush my teeth.
             Put on makeup.
                          Disguise the puffiness.
I have never been this hungover.
             Or maybe I am still drunk.
                          Can you be both at the same time?
 
Grab keys from the floor.
             Hail a cab.
                          There is no way I'm able to walk that far.
                                       There is no way I'm able to stomach the smell of the subway.
                                                                 Borrow $10 from the front desk against tonight's tips.
 
Last night, we had a movie premiere.
             Sponsored by Patron.
                          Bottles and bottles and cases of free tequila.
                                       Left over.
                                                    Not in the inventory.
                                                                 Drank straight.
                                                                              By everyone.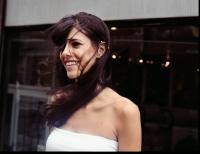 Andrea Janov is a punk rock kid who believes in the beauty of the ordinary, the power of the vernacular, the history of the abandoned. She strives to reveal the power in what we see, say, do, ignore, and forget every day. She holds Creative Writing degrees from SUNY Purchase and Wilkes University. Check out www.andreajanov.com. Andrea recommends FurKid Rescue in Pittsburgh.