Unlikely Stories Presents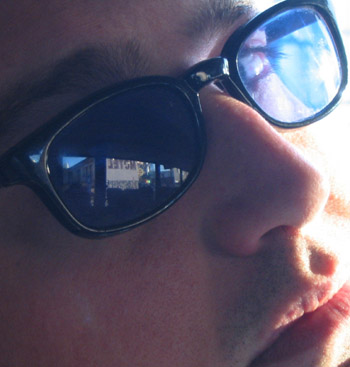 Bitingly sardonic and rife with pain, the poems of David-Matthew Barnes use Hollywood as a symbol for wickedness, wickedness as a symbol for sex, sex as a symbol for love, and just about everything as a symbol for longing. The anger in these poems is both blatant and controlled, fused with a wry humor that reminds us of the humanity of both the author and his targets.
Short stories, poetry and creative non-fiction by two time Elly Award winner David-Matthew Barnes have appeared in over fifty literary journals and anthologies. His stage plays and monologues have received over two hundred performances across the nation and internationally in South Africa, Brazil, Taiwan, England and Western Australia. Eight of his stage plays are available in print from Lulu Books. Two of his plays, And The Winner Is... and the ever-popular Are You All Right In There? are published by Playscripts. Since its world premiere in 1995, Are You All Right In There? has received over forty productions and has been performed in three languages. Excerpts from his stage plays have appeared in eight major publications including The Comfusion Review, The Best Stage Scenes of 2000 and The Best Women's Stage Monologues of 2002.
The poems featured here are excerpts from Sins of the Flesh, his first poetry collection, which is published by Word Riot Press. David-Matthew's novella, Sick and Beautiful, is available from PulpBits. Addressing a timely but often ignored subject, Sick and Beautiful explores the horrors of domestic violence in a relationship between two young men. Featuring the award-winning essay, Just Before The Drop, the story is told through many forms of writing: first person, third person, letters, poetry, prose and even song lyrics. While the story is fictional, the author drew on personal experiences, while writing it: "This subject certainly hits close to home for me. It is a topic that needs to be more addressed publicly. If this story reaches someone who might be in a similar situation, or if it can make people more aware and can help bring this topic to the forefront, then I have done my job as a writer."
David-Matthew recently completed his first novel, Ambrosia. This hilarious debut tells the story of a young woman named Tina Duncan. Heartbroken, Tina declares that she is in search for "the perfect man" and will no longer settle for anything else. Her best friend, Darla Marroni, dares Tina to accept every date that comes her way - even the blind ones. Tina agrees to the bet and sets out on a comical journey through Chicago and suffers through one hideous date after another to prove to herself that "the perfect man" does indeed exist. Ambrosia is now available nationwide.
As a screenwriter, David-Matthew wrote and directed the independent feature film, Frozen Stars (adapted from his successful Chicago stage play), which stars Lana Parrilla (of NBC's Boomtown) and Reynaldo Gallegos (American Wedding, Bad Boys II, Malibu's Most Wanted). In the last year, three of his character-driven screenplays have been optioned: the Latina-flavored hip-hop Rock It Girl, the teen thriller Adrenaline and the interracial drama Sorrow Is My Sister.
David-Matthew notes that his diverse literary influences include Tennessee Williams, John Patrick Shanley, Joyce Carol Oates, Paul Zindel, Carolyn Forchè, Joy Harjo, Dorothy Parker, Beth Henley, Dorothy Allison, Marsha Norman, Sandra Cisneros and cites Daisy Fay and the Miracle Man by Fannie Flagg as his favorite novel and author of all time.
David-Matthew and his partner, award-winning producer Nick Moreno, live in a suburb of Atlanta, Georgia. They are the proud parents of a teenager, two cats and a dog. In his spare time, David-Matthew serves as the Inspirations Assistant Editor for the women's literary journal Moondance.
For more info, visit www.davidmatthewbarnes.com.
You can purchase David-Matthew's work in print from Word Riot Press, Lulu Books, PulpBits and Playscripts.
***FIVE FUN FACTS ABOUT DAVID-MATTHEW***
David-Matthew once lived in a bamboo hut on the Greek island of Ios for six months.
When David-Matthew was 15, he was cast as a series regular on a Saturday morning television show called "Dance Floor". He appeared on the Bay Area show for a year.
David-Matthew's great-aunt is 50's film star Ann Paige who appeared in the films China Doll and The Young Lions (with co-stars Montgomery Clift, Marlon Brando, Dean Martin and Hope Lange).
Singer Tori Amos sang "Happy Birthday" to David-Matthew on his 22nd birthday.
In the fifth grade, David-Matthew won the school spelling bee. At the county-wide competition, David-Matthew came in third place. The word he misspelled was: commitment.
David-Matthew's works here at Unlikely Stories are:
2003:
This Man's Watch
I'll Never Tell
Hollywood Is Gonna Fuck You
If I Were...
Give it to Me
Clockwork