Sarah Gundle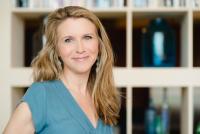 As a psychologist, Sarah Gundle uses poetry and writing prompts with her patients because she's found that written words can often access what spoken ones cannot.
Sarah has a doctorate in Clinical Psychology and a master's degree in International Affairs from Columbia University. In addition to her private practice, she teaches courses on trauma and international mental health at Mount Sinai. She is also a member of Physicians for Human Rights and works in their Asylum network, where she evaluates the mental health of persecution survivors seeking asylum.
Sarah recommends Girl Determined.
One day, the first time she had left the house in days, much less showered, we passed by a swan in a lake, her neck improbably high and elegant as she floated by. Absently, I commented on her beauty.
"Swans, seriously, swans? You think I want to look at a swan? You are so clueless. You disgust me."