a collaboration with the Russian band OYME
"Yehy Vaya" is a collaboration between Moldovan electronic music artist Serge Bulat and Russian folk band OYME. The track is based on a traditional Mordovian wedding song and sung in the Erzya language, thus honors the International Year of Indigenous Languages, initiated by the United Nations. "Yehy Vaya" serves as a reminder to preserve things that matter, things that make us different, and take into account the nature around us, that needs our protection the most.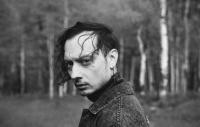 Serge Bulat, a multi-disciplinary artist and musician, born in the Moldovan-Ukrainian border town under the Soviet Union, immigrated to the USA in 2009, to pursue his musical career. Serge is known in the electronic and avant-garde music circles for his IMA-winning LP Queuelbum, released in 2016, and Third World Walker project, the audiovisual installations, exhibited in the UK, Argentina, China, Saudi Arabia, France, Italy, and the USA. Check out his new, free, artistic video game, "Wurroom," at Steam. Serge recommends Alive Inside.