I am that monkey that writes the
constitution on the walls and floors of my
cage. They taught me words. Gave me
crayons and now I write. They don't like
what I write and take away my crayons,
but they taught me to write, and I can't
stop.
 
I thought that's what they wanted. They
mutter about me now. Behind the
mirrored window. I know what they say.
Their sideway glances. So I just use my
shit to write. They shake their heads and
call me animal. Disgusting. But hey, they
taught me to write and I won't stop.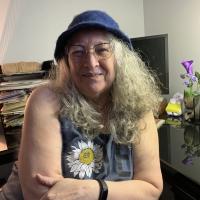 Linda K. Miller's Poems to Amuse, Bemuse, and Entertain is available on Amazon. She also has had poems published in books (A Vision, A Verse Volume 1...blah blah blah) and magazines (Sheila Na Gig, Adelaide, Orchards, Porcupine, Rue Scribe...yada yada). Three of her poems appeared in Pandemic Evolution Days 1-100 (2021) with Matthew Wolfe.
Linda recommends the Helping Paws Animal Shelter of McHenry County, Illinois.