A candle is made to become entirely flame.
                      —Rumi
Remember the time we split as an atom?
The Great Orange ball of flame
engulfed our notebooks, our laptops,
our blogs. We forgot they were incendiary
objects, the tools by which we string
blockchains of thunder together.
If speech can free us,
we must let our mouths burn.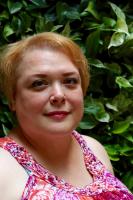 Janette Schafer is a poet, playwright, nature photographer, part-time rock singer and full-time banker living in Pittsburgh, PA. She is a Chatham University MFA student in Creative Writing. Her poem "What we want to remember about this river" won the 2019 Laurie Mansell Reich/Academy of American Poets Prize. Her play Mad Virginia won the 2018 Pittsburgh Original Short Play Series. Her writing and photography has been published in numerous journals, magazines, and newspapers. Janette recommends the Hispanic Heritage Foundation.