Unlikely Stories and Rigorous in Portland
Larissa Shmailo at Ford Food and Drink in Portland, Oregon, on March 27, 2019. This reading, a partnership between Unlikely Stories and Rigorous, was an off-site event of the 2019 Conference of the Association of Writers and Writing Programs.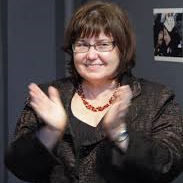 Larissa Shmailo is an American poet, novelist, translator, and critic.  Her poetry collections are Medusa's Country, #specialcharacters, In Paran, the chapbook A Cure for Suicide, and the e-book Fib Sequence. Her latest novel is Sly Bang; her first is Patient Women. Shmailo's work has appeared in Plume, the Brooklyn Rail, Fulcrum, the Journal of Feminist Studies in Religion, the Journal of Poetics Research, Drunken Boat, Barrow Street, and the anthologies Measure for Measure: An Anthology of Poetic Meters, Words for the Wedding, Contemporary Russian Poetry, Resist Much/Obey Little: Poems for the Inaugural, Verde que te quiero verde: Poems after Garcia Lorca, and many others. Shmailo is the original English-language translator of the world's first performance piece, Victory over the Sun by Alexei Kruchenych. Shmailo also edited the anthology Twenty-first Century Russian Poetry and has been a translator on the Russian Bible for the American Bible Society. Please see more about Shmailo at her website at www.larissashmailo.com and on Wikipedia at https://en.wikipedia.org/wiki/Larissa_Shmailo.