Unlikely Stories and Rigorous in Portland
dan raphael at Ford Food and Drink in Portland, Oregon, on March 27, 2019. This reading, a partnership between Unlikely Stories and Rigorous, was an off-site event of the 2019 Conference of the Association of Writers and Writing Programs.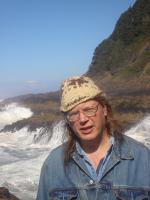 dan raphael's 26th book of poetry, Out in the Wordshed, is scheduled to come out this fall from Last Word Press, Other recent poems appear in Synchronized Chaos, Pangolin, Rasputin and Otoliths.