Unlikely Stories and Rigorous in Portland
dan raphael at Ford Food and Drink in Portland, Oregon, on March 27, 2019. This reading, a partnership between Unlikely Stories and Rigorous, was an off-site event of the 2019 Conference of the Association of Writers and Writing Programs.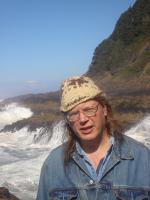 For over three decades, dan raphael's been active in the Northwest as poet, performer, editor and reading host. His 20th poetry collection, Manything, will be out this fall from Unlikely Books. Current poems appear in Caliban, The Opiate, Otoliths, Stealing Fire and Mad Swirl. dan recommends supporting KBOO-FM.