Unlikely Saints, December 2022
On December 9, 2022, the Unlikely Saints gathered at Old Arabi Lighthouse Records and Books in Arabi, Louisiana for a night of poetry, cupcakes, and fun! Nikki Ummel, Izzy Oneiric, Jonathan Penton, and Briana Augustus read poems. This is the full footage of all four readers.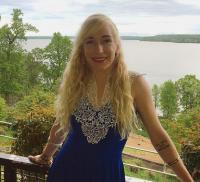 Nikki Ummel is a queer writer, editor, and educator in New Orleans. Nikki has been published or has work forthcoming in Painted Bride Quarterly, The Adroit Journal, The Georgia Review, and others, and is the 2022 winner of the Leslie McGrath Poetry Prize. Nikki is a reader for Peauxdunque Review and editor for Bear Review, as well as the co-founder of lmnl lit, an arts organization focused on readings, workshops, and residencies. She has a poetry chapbook, Hush (Belle Point Press, 2022) and a hybrid chapbook, Bayou Sonata (NOLA DNA, 2023). You can find her on the web at www.nikkiummel.com.
Izzy Oneiric holds an MFA in Poetry from Columbia College Chicago. Their work has appeared in numerous publications including BlazeVOX, Opium, Source Material, Plath Profiles, and Phantom Limb. They are the author of the chapbook From the Bombshell Shelter (Main Street Rag, 2010), and the full-length collections Crossing Bryan Ferry and Other Poems (Lavender Ink, 2016) and The Year is Sunday (Xi Draconis, 2018). Izzy currently lives in New Orleans and is an Event Coordinator for the New Orleans Poetry Festival.
Based in New Orleans, Louisiana, Briana Augustus is a photographer, painter, filmmaker, writer, and website and graphic designer. Raised in Tennessee, she earned her B.A. in Communications and Film/Video Production at the University of Memphis, before moving back to her Louisiana hometown. In 2015, she established her Briana Augustus Design brand to offer clients her Fine Art, Event & Photojournalism Photography, Digital Marketing, Website and Graphic Design services.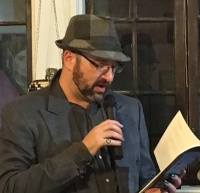 Jonathan Penton founded UnlikelyStories.org in 1998. His own poetry books are Last Chap (Vergin' Press, 2004), Blood and Salsa and Painting Rust (Unlikely Books, 2006), Prosthetic Gods (New Sins Press, 2008), Standards of Sadiddy (Lit Fest Press, 2016), and the electronic chapbook Backstories (Argotist E-books, 2017). He lives in New Orleans, where he is working on a book of ekphrasis and a book of haibun with Cassandra Atherton. Jonathan recommends the Southern Poverty Law Center.