"Typescenes" Book Release Party
On October 15, 2020, Unlikely Books held a book release party for Typescenes by Rodney A. Brown. The party had very limited seating, and took place at The Front Gallery in the 9th Ward of New Orleans, 4100 Saint Claude Ave. Rodney A. Brown performed their work, assisted by dancer Shannon Stewart and DJ Rocky Block. You can learn more about Typescenes, and enjoy a wealth of supplimental material, at its web site, or just buy it from Unlikely Books.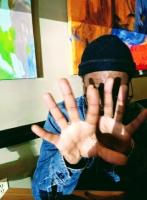 Rodney A. Brown is a poet, writer, choreographer, and interdisciplinary artist whose work draws on his experiences with AIDS, mental illness, and homelessness. His writing has appeared in the Journal of Pan African Studies, and his performances on black lives and mental health have been sponsored at the Society of Dance History Scholars Congress on Research in Dance and the United States Conference on AIDS. He taught as a choreographer at the university level and attended the Saint Francis College MFA program in Creative Writing. Rodney recommends the Boris Lawrence Henson Foundation. Photo by Hubs.

Shannon Stewart explores the intersection of dance with embodied identities and social choreographies. She works across and through disciplines but her creative practice is body-centered.
Shannon was born in the South and came of age as an artist in the Pacific Northwest, San Francisco, and Europe. She has an MFA from Tulane University in Interdisciplinary Dance Performance, a BA in Urban Design from the University of Washington and is based in New Orleans. Her work has been presented in dance studios and art galleries, and collaborative film work has been screened at film festivals big and small.