Two Videos from Three Poetry Readings
In late 2016, Jonathan Penton read from his new book, Standards of Sadiddy, in four locations in New Orleans and two more in south Louisiana. We have video from three of those readings, divided into two seperate movies:
Lousiana Poems, Kinda: 
Selections from Standards of Sadiddy: 
And check out the interview with the author, by Antenna Gallery's Sara Slaughter.
These videos were shot at the Waves Reading Series, hosted by Brad Richard and Elizabeth Gross at Antenna Gallery; Material Life, a shop run by Carla Williams; and the Poetry Buffet, hosted by Gina Ferrara at the New Orleans Public Library - Milton H. Latter Memorial Branch.
Additional readings were hosted by Megan Burns of the Blood Jet Poetry Series at BJ's in New Orleans, Taylor Gorman of River Writers at Brickyard South in Baton Rouge, and Alex "PoeticSoul" Johnson of Lyrically Inclined at Black Cafe in Lafayette.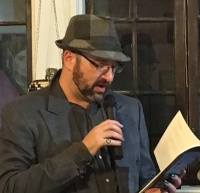 Jonathan Penton founded UnlikelyStories.org in 1998. His own poetry books are Last Chap (Vergin' Press, 2004), Blood and Salsa and Painting Rust (Unlikely Books, 2006), Prosthetic Gods (New Sins Press, 2008), Standards of Sadiddy (Lit Fest Press, 2016), and the electronic chapbook Backstories (Argotist E-books, 2017). He lives in New Orleans, where he is working on a book of ekphrasis and a book of haibun with Cassandra Atherton. Jonathan recommends the Southern Poverty Law Center.