"Two Very Big Words" and "The God of Sun Came Late Today"
Two Very Big Words
Thursday afternoon they shut down the world
by unanimous vote of the Fates That
            Look After Idiots
Balls flew backwards and landed in the canvas bags
in which they had been hauled to the grassy fields
amid palm trees that are no longer there
that disappear in mid-gawk
chicken thighs and toilet paper fly from the aisles
as he speaks his little words
Minority choice, little man behind the curtain,
behind the arras,
            the king's fool
elevated beyond his pay grade by a glitch
in a system 200 years out of date,
no anti-virus protection in sight
 
Too very big words:
            Ignorant!  Incompetent!
Two very little people
misplaced at the top
---
The God of Sun Came Late Today
Matthew Shepard long has died
Dry your eyes, the nation cried
King still dead
Vanzetti died in twenty-seven
 
My dad, my mother, now Anne's mom too
The finer folk are all in heaven
their bodies mixed with coarser stuff
 
Who would die in these latter days
the sun so clearly on the rise
Who would seek to lose this time,
the Kingdom in the Mirror,
to the gritty, gutter guys?
the general of the looking glass
the fighter on the wall
protecting what must steal away,
the next selection pays for all.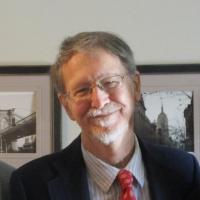 Robert Knox is a poet, fiction writer, and Boston Globe correspondent. As a contributing editor for the online poetry journal, Verse-Virtual, his poems appear regularly on that site. They have also appeared in journals such as The American Journal of Poetry, New Verse News, The Eunoia Review, and others. His poetry chapbook Gardeners Do It With Their Hands Dirty was nominated for a Massachusetts Best Book award. He was the winner of the 2019 Anita McAndrews Poetry Award. His book of linked short stories, House Stories, was published in 2021. Robert recommends Jewish Voice for Peace.