Three Visual Poems, October 2021
Artist Statement
As a Visual Artist and Poet, the goal of my artwork is to find existential meaning in the most mundane: A walk in the park, shattering winter winds, spring at its most magnificent moment, flowers and smells, all creating poetical imagery smoothly transferring the audience into another world.
My artistic practice questions the ambivalence that I experience between the connection and disconnection of humankind and nature. It is in this state of questioning, of feeling vulnerable and exposed, that I explore the comfortable and the awkward, the controlled and uncontrolled, the familiar and the mundane. It is at the meeting point of these dualities, where the pairings slip and merge, that I situate my work.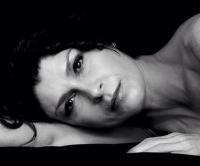 VaL Smit is a South African artist and poet based in Cape Town. She writes ekphrastic poetry per artwork created and uses various media in portraying images that she feels fitting to deliver the message of the words she pens down.
She focuses on the inner turmoil experienced by our disconnectedness from nature and each other. Her work has been published in various online international journals including GloMag India, The Chachalaka Review, The West Review, The Raconteur Review, Literary Garland, Valiant Scribe and Mississippi Books.