"Theory on the existence of the door, or why spaceships have nice tits" and "Necessary Knowledge"
Theory on the existence of the door, or why spaceships have nice tits
Merely human comes to seem
problematic
human beings have
social practices
unlike themselves
human qualities
with a touch of irony and
 
they can change
and need not have
arbitrary meaninglessness
 
a fact
grew
getting bigger
female or
what is widely seen as
democracy. the door
the absolute limits
may not be the place to stop
 
perfected democracy
when they hear the word, it tickles
self-indulgences of a new kind
needs to be understood
 
women
offered
riveting
operation of giant cranes.
 
this theory is
the existence
sacred
appears to be fragments
constructions that may well have
been part of an interstellar vessel
 
of course//no solution
possible
 
women faced
them, they still
aplomb
from the war
 
between truth and falsity
some purpose other than
promotion of
more agonizing
 
for people
human existence
is a less controversial view
widespread and effective
 
consciousness itself
the material fact of
the door.
---
Necessary Knowledge
I've collected some number
Of books with their own reading
Of me
Reality
Society
Humanity
Infinity
Void
History of a spectral yearning and subversion
Following my own hauntings, trying to give the enemy
Form
Painting a picture of a neck in order to slit the
Throat
Save the allegories about the burning of one's own boat
                 -and never returning home
I arrived on a dragon and this corner I stand in
Is just the enframing of my painting
And if you can picture that then picture this
The blueprints for utopia written in disappearing ink
 -but the paper is on fire - but the fire is a mid-range paper supply company with a cheesy pita in the toaster oven -  but the cheesy pita is my nostalgia and the toaster oven is an algorithm that can configure an approximation of my future personality with greater accuracy than I can
I'm browsing wikipedia searching for the people's narcan
I'm reading through the canon of revelation and revolution
Different podcasts blast in each airpod
My god, there is nothing outside the hypertext
Each thought comes with a never ending stack of references
Guess that's just the way the dialectics is
Y'all sure someone's double checkin' this?
Here's my personal collection
Which is your favorite?
Which is my foundation?
Where have I been led astray?
Which is indispensable?
Which is that which I should but do not have?
Which is a book that should be burned?
Burned but a book
A book but the word
The word but written in flame
Written but being the act of burning
The act of burning but the act of-  is the planet conceived of as a ship flying through space and the oxygen factories are on fire while the water supplies continue to rise
But there's no shores.
No departure
No arrival
The home is mobile
Moving too slow for you to notice
In a spiral and relative to others motion
I'll never read enough to know what's next
I'm cashing in on those saved poetic devices and their accumulated interest
Can you tell me how sweet the apple bite is?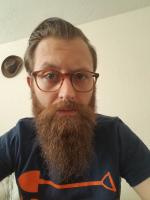 Adam Ray Adkins a.k.a. Dirt: Son of Earth is a self taught mixed media artist and poet. Rooted in automatic drawing and collage, his work combines elements of personal narrative, pop culture, abstraction, contemporary philosophy, and a heavy dose of stream of consciousness. Starting with making posters for punk concerts and performing action paintings at concerts, his work now includes everything from illustrated notes of philosophy, surreal gifs, abstract landscapes, post digital dreamscapes, glitched photography, and psychedelic music. Currently residing in St. Petersburg, Florida, you can see him performing live painting at concerts, or reading original and freestyle poetry at open mics - or on YouTube. Adam recommends Birds in Helping Hands.